Reasons to Get Spiritual Beads
June 20, 2018 at 8:00 AM Leave a comment
Have you ever heard of a chakra bracelet? And do you know what does it mean? If you're not into yoga, you've probably never heard of yoga chakra bracelets. Maybe you've seen them a lot as they are very popular among those who don't even practice yoga. But do you know the meaning behind those bracelets?
In general, the spiritual beads meaning is about energy recreation in your body. A chakra string of beads is created to balance energy portals. Are you already interested? Keep reading to find out more.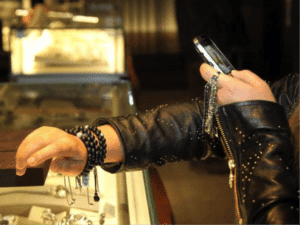 Chakra Bracelet: The Meaning of the Beads
Each bead on a yoga bracelet symbolizes something. Overall, there are usually seven different beads of seven different colors on a string of beads:
Red;
Orange;
Yellow;
Green;
Blue;
Indigo;
And violet.
Each of them symbolizes a different energy portal, which is responsible for a specific part of the body, as well as a set of particular emotions and feelings. For example, green color stands for the heart chakra. It is related to heart directly. This part is all about romantic feelings, compassion, love, forgiveness, etc. The same way every other chakra is responsible for something else.
How can a chakra bracelet help you to balance the energy? Just wearing a bracelet with the stones of different colors promises to make its owner feeling better emotionally. You can always check the reviews from other yoga bracelet owners and read how it has helped them with balancing their own energy.
Another effective way of using a yoga string of beads is by diffusing the essential oils with it. Just take it and sprinkle a drop of oil on two-three beads. Then, hang it somewhere around the house (for example, on a cabinet handle) and let it dry out. It takes no more than 20-25 minutes. After this, you can wear a bracelet all day long and enjoy the smell of your favorite essential oil wherever you are. Choose lavender oil to calm yourself down, or take orange oil that will help you to stay active from morning till evening. Try different aromas for different purposes.
Is a bracelet expensive? Everything depends. If you buy a string of beads with real gemstones, then it will be quite a pricey purchase. If the stones are fake, then it will be quite a cheap thing to get. Here's a little lifehack on how to pick the real stones. If a stone is genuine, it feels cold when touching it with the fingers or feeling it against your cheek. Try this method whenever you're choosing something pretending to be with the real stones. Don't be afraid that you will need to replace a string of beads every time you sprinkle the oil. Usually, a qualitative yoga bracelet lasts for a long period of time. So, probably, it is better to choose quality over quantity. Look for yoga-related brands to be sure that you've picked something really nice and durable.
Entry filed under: other. Tags: .