Posts filed under 'money management'
All views are my own and do not necessarily reflect the views of Discover Products Inc. and its affiliates
A wave of anxiety washed over me as I walked into the examination room. I wasn't sure what was wrong but I knew something just didn't feel right. For days I had an overwhelming desire to just stay in bed. I lost the energy to leave the house or even move around inside of it. I felt the utter lethargy of the flu without any other flu-like symptoms. I wasn't feverish. I had no cough and my nose wasn't runny.
I sat in front of the doctor and calmly listed out my symptoms. I told her my back, arm and shoulder were aching and most importantly that I was physically worn out. I was exhausted by a simple day of work, which involved little to no activity. I was unable to draw in a deep breath and it felt like a heavy weight was pressed against my chest. The doctor sent me for a chest x-ray, but the tests revealed nothing out of the ordinary. I was told a clear x-ray meant I had "absolutely nothing to worry about."
No further tests were ordered. No follow-up appointments were scheduled. Despite the doctor's reassurance my health quickly took a turn for the worse. I returned to that same office two days later and begged that same doctor to help me. As she began to dismiss my symptoms I pulled off my shirt and revealed the bright blue veins that traversed my chest. "This is not normal," I said in a shaky voice. She looked me in the eye and said, "You are only twenty-seven, I'm sure this is nothing." Again she sent me off with a wave of her hand and a referral to see a specialist. The specialist didn't have an appointment available for over three weeks, but it turns out I couldn't wait that long for an answer.
Early the next morning I walked to the basement to wash clothes and found myself unable to climb back upstairs. I sat down unable to catch my breath and sobbed. Something was most definitely wrong. My husband drove me to the emergency room where I was diagnosed with a life threatening condition that required immediate medical attention. I learned three lessons from that experience:
Always trust your instincts. If something doesn't feel right it probably isn't.
Illness and medical conditions can strike anyone at any time. Unfortunately age will not make you immune to them.
If a doctor dismisses the urgency of your symptoms find another doctor or go to the emergency room (that trip to the ER saved my life!).
Within a week of my ER visit the first medical bill arrived in the mail. Luckily I had amazing health insurance, but even with insurance I owed over $8,000 for doctors visits and medical treatment that spanned a six-month period.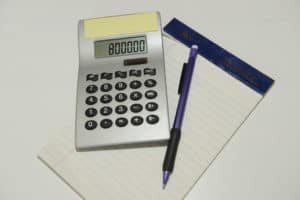 It's easy to see how one unexpected injury or illness can wipe out your savings and land you in a sea of unpaid medical bills. You'll spend whatever it takes to get better, but without solid financial planning debts can easily mount around you.
What if you fall unexpectedly ill? Do you have an emergency fund large enough to cover a medical crisis? If not, where would you turn for money if an emergency occurs?
Many people use credit cards, home equity loans and even get help from friends and family, but what if none of these are available when you find yourself in need? What do you do when you don't have the money to pay your bills? Where do you go in emergencies? Discover Personal Loans may be the answer. Discover Personal Loans can be an ideal solution for individuals with good credit and a strong financial history. With no origination fees you'll receive 100% of your approved  loan amount. You get competitive, fixed rates, (starting as low as 6.99% up to 24.99%), with flexible payment options to help you reach your goals. Check out this video to learn more. Interested in applying but not sure where to begin? Use the online calculator to estimate your monthly payments and see which loan terms will best fit your needs. If you need additional guidance Discover Personal Loans 100% U.S. based loan specialists can help you decide which loan term works best and how quickly you want to pay it off.
You can find out more about Discover Personal Loans on Facebook, Twitter and see educational videos on YouTube!
So what do you think? Are you financially prepared for an unexpected medical crisis or other emergency?
Be sure to visit the Discover brand page on BlogHer.com where you can read other bloggers' posts!

As the weeks until my inevitable layoff dwindle I've begun hard core preparations for my soon-to-be life without a job. I'm a planner by nature so it certainly helped for me to put a plan in place and start checking off the list of things to do.
First, I logged on to all of our bank accounts to see how our finances stack up. While I took a look at our overall retirement accounts, my main focus was on our checking and brokerage accounts. My husband keeps amazing track of our finances, so I also looked through the history of our bills to determine what big expenses might pop up in the next six to nine months. This included items like insurance, (our mortgage and auto insurance is always due in August), as well as property taxes on our homes in Maryland and North Carolina. I subtracted these expenses from our current totals to get a ball park idea of our liquid bottom line. Through gnucash, (our financial tracking tool), I was also able to forward project my remaining wages and estimate monthly bills like utilities and credit cards. This gave me a pretty clear picture of what number we'll be staring at when the big day finally arrives.
Next, I reviewed the HR policies associated with leaving my company and realized that I would be paid for any unused vacation accrued throughout the year. I originally planned to take two weeks off this summer, but after reviewing the policy in detail I decided it's more prudent to take less time off this year. After all, I'm about to receive a large chunk of time off in the form of unemployment. So rather than spending a week doing nothing, I'll work that week and bring home an extra week's worth of wages in my final paycheck.
Since the baby is due to arrive around the time my job ends I figured it would also be a good time to stock up on good bargains. Each Sunday for the past three weeks I shopped for deals at CVS and Rite Aid. Our minuscule hall closet now has enough razors, shaving cream, shampoo and other personal hygiene products to last us throughout the summer and the first few months of after the little one's arrival. Since we own two homes, some of these products will make their way to the beach, so we have stock on hand there too.
My husband owns a small business, so I also picked up a few bargains at Staples the past two weekends. We now have a small stack of printer paper and various items I received free after rebate like highlighters, envelopes and pens. The goal with these purchases was as much about saving money as it was preparing to have items on hand so we aren't forced with rushing out to the store with a little one in tow.
My husband also suggested stocking up the pantry when items go on sale. I'm all about being prepared, so for the first time in my life I might actually try to come up with a meal plan that will help us decide which meals to prepare. If anyone has ideas on the best way to create a meal plan please let me know. I have a feeling those first few weeks after birth will be a bit chaotic and I'd prefer to cook at home and avoid the dreaded take-out routine as much as possible.
Lastly, as I mentioned before, I called a bunch of companies that we subscribe to and asked for discounted rates. I also scrounged up some money by returning a bunch of unused items and selling a few other things on eBay.
Overall I'm feeling unbelievably good about the state of our financial affairs and the preparations for my first few months after unemployment. It's pretty crazy to think that three months from now I'll be without work for the first time in 20 years and having a baby. Completing all of the steps above has certainly made me feel more confident about our future!