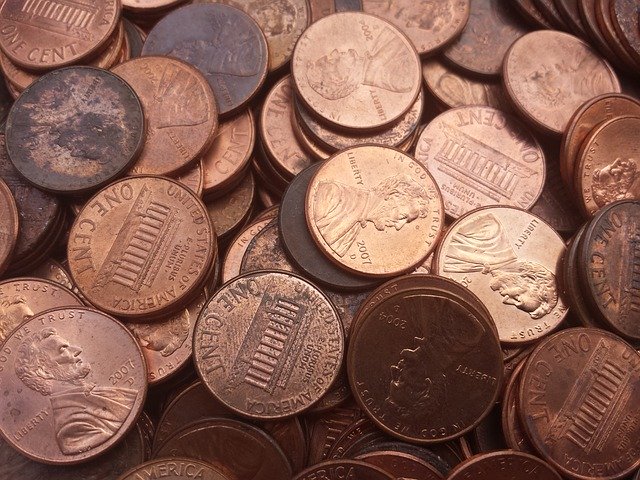 Find a penny pick it up… Have you ever heard that rhyme? Do you know that five or six versions of that poem exist?
Tonight, during my evening walk, I was staring down at the ground when I saw something bright and shiny up ahead. From a distance I couldn't quite tell what it was, but as I got closer I noticed it was a penny.
It was a strange place for a penny to be. I found it in the middle of a residential street. I often find spare change in the check out line of stores, but this was the first time I saw a penny while walking through my neighborhood.
I'm not sure where I learned the law of penny pickups, but I've always heard that picking up a "heads up" penny is good luck.
So I was very happy to see Mr. Lincoln shining up from the street. I picked up that penny and went on my way. I felt 1 cent richer and a little luckier for having found the penny in the first place.
Penny Tails Up
I walked for another ten minutes and found another penny a little closer to home. This one was "tails up." Superstition says a "tails up" penny can bring bad luck, but I reasoned that the previous penny would cancel out the new found penny.
So, I picked it up despite my misgivings.
Find a Penny Pick It Up Rhyme
When I got home I looked up the superstitions around pennies. I found the following rhyme: Find a penny, pick it up, all day long you'll have good luck. Did you know there are a bunch of other Find a Penny Pick It Up rhymes an poems?
A List of Find a Penny Pick It Up Rhymes
Here are the full rhymes:
See a penny, pick it up; all day long you'll have good luck.
Find a penny pick it up all the day you'll have good luck. Find a penny leave it there all the day you'll have despair.
Find a penny, pick it up all day long you'll have good luck. Put the penny in your shoe and good luck will come to you.
Find a penny pick it up all day long you'll have good luck. Give it to a faithful friend, then your luck will never end.
Find a penny pick it up all day long you'll have good luck. Find a penny let it lie, you'll need a penny before you die.
All five versions of the "Find a Penny Pick It Up" rhyme are super cute. If you know of any others please leave them in the comments below.
Is It Bad Luck to Pick Up a Penny on Tails?
A superstitious friend of mine once told me that all tails up pennies should be turned over so the head is facing up. My friend picks up pennies that are face up, but she also flips pennies that are face down.
"The next person who finds it will get lucky," she told me. "I believe in karma," she said, "so if they get lucky I will too."
She also sang a different rhyme:
Find a penny pick it up all day long you'll have good luck. Pass that penny to a friend, your penny luck will never end.
When she finds a heads up penny on the ground she passes it along to someone else. "I put it in a charity jar or leave it in the spare change bin at the store," she told me. "I think I'll get extra lucky if I pass it on to someone else."
Penny Idioms and Phrases
These aren't the only penny phrases and idioms. Here are a bunch more:
A penny for your thoughts.
Penny wise and pound foolish.
In for a penny, in for a pound.
A bad penny always turns up.
Take care of the pennies and the pounds will take after themselves.
A penny saved is a penny earned.
Penny pincher.
Is It Good Luck to Find a Penny Heads Up?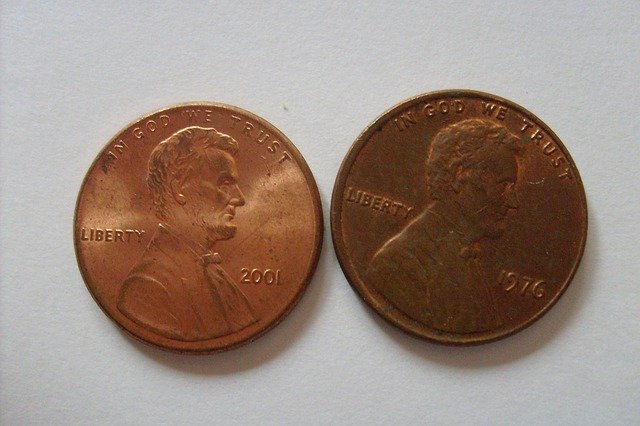 Is it good luck to find a penny heads up? Yes, but why? What is the origin of this superstition? In ancient times people believed heavy metals contained protective qualities that could ward off evil spirits. Precious metals were believed to be gifts from the gods and keeping metal in your possession was supposed to keep you safe.
As cultures advanced, coins became the currency of choice. Of course, those coins were made from the same precious metals mentioned above, so it makes sense that coins might also be lucky.
But what makes heads up pennies particularly lucky and why is it good luck to pick them up? Some people believe that the forces of good and evil are constantly present in our lives. The heads up penny signifies represents the good in the world. On the flip side, a tails up penny is said to signify bad and evil.
So picking up a tails up penny can open the door to the negative underbelly of the world. It can allow bad influences into your life. A heads up penny on the other hand opens your world to positive thoughts and influences.
This is the reason my friend flips pennies over. She believes flipping a tails up penny keeps the evil forces on the underside. By flipping the penny she allows the good side to shine. She also passes this good onto the next person who finds it.
Has the Luck Worn Off?
It may seem hard to believe, but at one point in time a person's wealth could be measured by the weight of the money in the bags they carried. Imagine counting, adding, and protecting those coins from those who might wish to harm you.
Not so long ago finding 'real' money would have made you feel rich. My five year old still feels this way. He loves to find coins on the ground at grocery stores. Whenever he finds one he squeals with delight. Then rushes home to add them to his piggy bank.
These days most people ignore spare change. In a world full of digital bank accounts the need for cash is quickly disappearing. Perhaps this switch to digital banking has made the penny seem a little less lucky.
Good Luck = Good Fortune
Money has always been a sign of good fortune and good luck. The more money you have the more power you can yield. The more power you have the more successful you can be.
We don't always like this fact, but it does drive many of us to succeed. Good luck and good fortune are synonymous.
Picking up a penny may only make you one cent richer, but many believe that one penny can lead to many others.
Can picking up one penny make you rich? Definitely not. Can believing in good fortune make you feel fortunate? You bet.
Pennies in Shoes & Purses
My grandmother believed purses and wallets should never be gifted without a single penny inside. It's an old superstition that had been passed down by her own grandmother. A penny is placed inside the pocket to ensure future wealth.
Some brides also place pennies inside of their shoes. The saying goes: "Something old, something new, something borrowed, something blue and a penny in your shoe."
Is An Old Penny Worth More Than One Cent?
Prior to 1982 pennies were made of 95% copper. In 1983 the United States government switched the material from 95% copper to 97.5% zinc with a thin copper coating.
The value of copper has increased tremendously over the last few years and some believe the copper in those pennies will be worth a fortune one day.
Unfortunately the copper cannot be extracted from those pennies just yet. Melting pennies is currently against the law.
However, some penny enthusiasts believe the U.S. government may retire the penny one day in the not-so-distant future. If the penny is retired the law may change.
If that's the case those pennies will be worth much more than one cent.
What About You?
Do you pick up pennies when you find them on the ground? Do you only pick up pennies that are face up?
What do you do after you find them? Do you roll them into coin rolls or do you pass them on to others for good luck?
Would you store buckets full of copper pennies? Do you believe they could be worth a lot more than one cent?