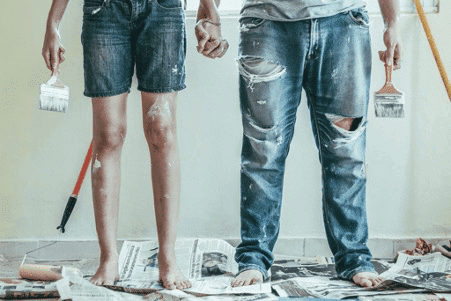 Decorating your home is one of the most exciting parts of being an adult. Whether you're moving into a new space or just want to give your current home a new look, decorating is a lot of fun. You get to hand pick the pieces that make a space your own! You get to choose the color of the furniture, the size of the couch, the art on the walls. And seeing a space you put time and effort into decorating is incredibly rewarding. But as exciting as decorating is, it can also cause a lot of stress. You don't realize how long decorating takes and how expensive it is until you're actually faced with it.
Decorating a home is both exciting and scary, but it doesn't have to be expensive. You can always find cheaper alternatives and still achieve your dream space. One of the rooms in a house that tends to take the longest to put together is the bedroom. You spend the most amount of time in that room, so you want it to look good. But before you start to worry that you won't have enough money to attain your perfect bedroom, just check out these 5 budget-friendly ways to redesign your room:
1. Add Artwork
Artwork can be really affordable, as long as you look in the right places. When you add artwork to the walls, you can keep the rest of your furniture simple and still look like you have expensive taste. There are many websites where you can find artwork or decorative posters for very cheap prices.
2. Get a New Bed Frame
Sometimes, the simplest fix is the most effective. And that might just mean getting a new bed frame. Changing your bed frame will quickly give your room a completely different look, without having to spend money on a bunch of new furniture. There are different types of bed frames for every style, from platform beds to upholstered ones. Shop around to find the one that suits your style.
3. DIY
DIY room decor is not just affordable, it's fun to make. You get the opportunity to create something with your own two hands that no one else has! If you're up for a challenge, hit up your nearest thrift store and pick up the cheapest piece of furniture you can find. Then repurpose it into something brand new. Repurposing furniture isn't as difficult as you may think, all you really need is sandpaper and furniture paint and you've got yourself a new find.
4. Shop Second Hand
Furniture shopping at thrift stores is always a good idea when you're trying to live frugally. You can find really amazing pieces at a fraction of the price that you would pay for it brand new. Thrift stores are a great place to find lamps, artwork, accessories, and even furniture, if you're lucky!
5. Add Accessories
When you're on a budget, you don't have the funds to splurge on elaborate furniture. But that doesn't mean your room can't look fancy, you just have to find other ways of achieving it. And a perfect way to do that is with accessories. Accessories like candles, lamps, mirrors, and flowers are very affordable but make your room look way more put together. You can have the most plain furniture, but as long as you have good accessories, your room will stand out.
Decorating your bedroom is an exciting process. You get the opportunity to design your space exactly how you want it! But sometimes that comes with a high price tag… unless you do it right. Making simple changes, like adding accessories or getting a new bed frame, will completely change your bedroom at a fraction of the price. So you can still have that dream room, without breaking the bank.