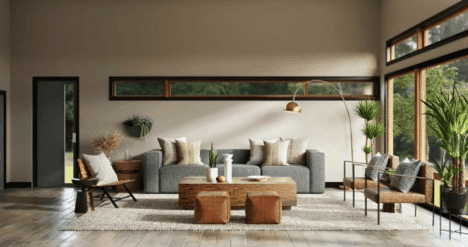 Redecorating your home is a great way to make it feel fresh, but it can also cost a lot of money. If you're looking for ways to refresh your home without spending a fortune, here are 10 budget-friendly tips.
1. Rearrange Furniture
You don't have to spend a penny to rearrange the furniture in your home and declutter rooms. Whether you rearrange your living room or change the way your bedroom is laid out, moving furniture can make your home feel brand new.
2. Repurpose Furniture
If you've got old furniture that you don't like, you can always repurpose it into something new. You can find tons of ideas for repurposing furniture online, whether you want to repurpose a dresser, an old hutch or something else. Of course, you don't need to be too cheap when it comes to furniture.
3. Add an Accent Wall
Accent walls are a great way to add a little bit of life and color to a room. The best part is, you can pick up a quart or gallon of paint for a reasonable price, which means you don't have to spend a fortune to transform your home. As long as you're willing to suit up and paint, this is an excellent choice.
4. Try IKEA Hacks
You might have seen some IKEA hacks on the internet. By taking basic pieces of IKEA furniture, such as the LACK side table, you can create custom furniture that looks great and adds function to your home for a low price.
5. Add Some Wall Decor
Adding wall decor is an affordable way to add some style to your home, and the options are endless. There are tons of websites that offer custom canvas prints; all you have to do is upload the photo of your choice. As a matter of fact, you can even get a 16×20 canvas for free, so decorating your home has never been easier.
6. Focus on the Small Stuff
It's the little things that make or break a home, so focus on the small stuff. Having a new faucet installed or changing the drapes in a room can make a world of difference, and you won't have to spend too much money.
7. Try DIY Craft
If you enjoy crafts, you've got the perfect skill to redesign your home with. You can find tons of ideas online for interesting ways to reuse old wine bottles, corks, candle jars and more. Crafting your own artwork and furniture can save you a lot of money.
8. Add Storage
Storage furniture isn't too expensive, and it can help clean up your home a bit. If you have a lot of small items cluttering up your home, consider investing in a storage closet or a small chest. Simply creating some extra space will make your home feel fresh.
9. Create a Showcase
If you have a collection of knick-knacks, childhood toys or other small objects, consider using a shelf to create a showcase. Even if you aren't a collector, you can fill this space with family photos to brighten your home up a bit.
10. Shop Second-hand
Shopping second-hand is a smart way to save money on new furniture and accessories. You can find everything from dining sets to small side tables and mirrors at much more affordable prices when you shop second-hand. Just make sure you inspect before you buy, that way you don't end up with old, busted furniture.
You might think you have to spend a lot of money to give your home a fresh look, but that's far from the case. With these 10 great ideas, you can give your home a fresh new look without spending all your hard-earned money.