Posts filed under 'book review'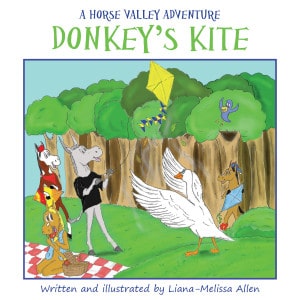 Book Description:
The three horses Jack, Max, Lax and their friend Donkey are back!
In Horse Valley, it's a perfect day to go kite flying. Jack, Max, Lax, and Donkey decide to get creative by putting together their own homemade kites. However, Donkey's kite doesn't work. No matter how hard he tries to get it to fly, it just keeps tumbling to the ground. How will poor Donkey get his kite to fly? A friendly goose named Gusty is delighted to help him out.
In this Horse Valley Adventure, Donkey learns not to give up when all seems hopeless. The friends all learn a lesson about helping others and true friendship.
My Thoughts:
There are a number of valuable lessons in this book including teaching children the importance of being kind to others and taking the time to help those in need.
None of Donkey's friends seem to notice that he built a kite that can't fly. Donkey asks for assistance, but Jack is too busy coloring his kite, Lax is too busy bragging to his friends and Max is too busy eating to help. When Donkey feels discouraged there is no one around to help and just when you think his day can't possibly get any worse he wanders off sadly and encounters a goose that ruthlessly teases him.
Luckily a magnificent and beautiful bird named Gusty comes to his rescue. Gusty puts the nasty goose back in his place and offers to help with Donkey's kite. There is an important lesson in the exchange between Gusty and Donkey. Gusty recognizes Donkey's distress and is eager to take the time to help Donkey feel better about himself.
I like that this book teaches children the importance of looking out for others. Despite being busy any one of Donkey's friends could have offered to help him or at the very least offered to help him after they were finished working on their own kites. Unfortunately, they were all so busy they didn't realize how sad their friend had become.
This book focuses on the importance of empathy. Even very young children can learn to recognize the thoughts and feelings of their friends and family members. When Donkey's friends eventually realize just how sad their friend has become they all pitch in to help him build a truly magnificent kite.
This book is a follow up to the story The Three Little Horses and the Big Bully Donkey. In the original story the Donkey is actually the bully. Although the bullying section of this book is quite small, (just a few pages  compared to the original), I like how the author turned the tables on the characters and made the Donkey realize just how painful it is to be picked on. Despite the fact that Donkey no longer picks on others it is an important reminder to choose kindness over cruelty.
We all know childhood can be an extremely emotional and difficult time. This book will help children realize just how hurtful their words and actions can be on those around them.
While it is certainly important to be aware of the thoughts and feelings of others it is equally important to answer their calls for help. I think both books would make a great introduction to bullying and the importance of being kind.
Disclosure of Material: I received this book for free, but the opinions I have expressed are my own.