It started innocently enough. My mom pulled a Playskool puzzle out of storage and presented it to my son. She initially showed him how the puzzle fit together, but within a day or two he could place most of the pieces in the correct locations.
He was sixteen months old at the time and the text on the front clearly read for ages "3 to 6." The first few times he attempted to complete it he needed some help.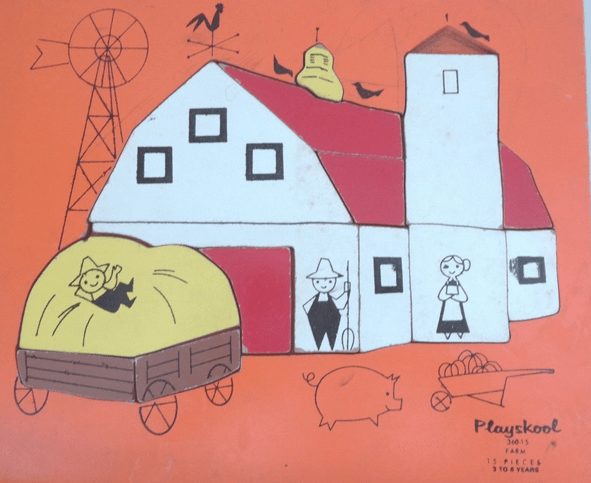 From that point on the early Melissa and Doug puzzles were too easy for him. Matching the shapes, animals, letters and numbers wasn't a challenge. He still enjoys putting his old puzzles together, but he prefers puzzles with lots of pieces or a variety of puzzles in one box like Who Am I.
He attempted this 28 piece jigsaw puzzle a few months ago, but it was too difficult for him to complete. Actually I should drag it out of storage and let him to try again. Maybe enough time has passed for him to put it together. He can complete similar puzzles on my iPad.
Unlike a jigsaw puzzle where the pieces look relatively similar in shape and size the shape of each Playskool puzzle is very unique. It's much easier to figure out how to rotate the pieces to fit on the board.
I've fallen in love with these old puzzles from the 1970s. In fact, I scoured the Internet in search of a few that my son might like. Search for vintage Playskool puzzle and you'll find pages of results.
I decided to buy my son a couple. Yes, I know I just posted about buying only one gift for my son's birthday. I thought about asking the relatives to buy some for his birthday, but I had a feeling they would have trouble finding ones that met my requirements.
I searched for vintage wooden puzzles containing at least 10 pieces with cute and colorful designs. You have to look carefully at these types of auctions as some of the puzzles are really beat up after 30+ years. Since these are second hand I also didn't want to spend a fortune on them.
The Value of Old Playskool Wooden Puzzles
The value of old Playskool wooden puzzles varies, but most only sell for a few dollars on eBay and other online auction sites. The average price falls between $4 to $10.
After watching a number of different auctions I realized I could get more bang for my buck if I bought a bunch of puzzles all at once. The puzzles are heavy and shipping can cost quite a bit on an item like this.
I ultimately won eight puzzles in one auction and purchased three others as buy-it-now options. The three individual puzzles were all ordered from the same seller and I asked for combined shipping.
Honestly I overpaid for the three separate puzzles. I purchased the three puzzles one night and then won an auction two night's later for the other eight. If I had known I'd win the second auction I certainly wouldn't have purchased the first three. Eh, live and learn. In total I paid roughly $45 for all eleven, which included the cost of shipping.
Playskool Wooden Puzzle's Value
All told that amounts to just over $4 per puzzle, which beats almost any price I could find in store or online. $45 seems like a ton of money to spend on used puzzles, but hopefully my son will get a lot of use for them and when he's finished I can always try reselling them on eBay.
I don't regret the decision to buy them, but when I completed the PayPal checkout I was shocked by the final tally. $4 per puzzle seems like a great price, but $45 for used puzzles seems like a lot of money.
One thing to note: A Playskool wooden puzzle's value depends primarily on its age and condition. These are very old puzzles and many of them are chipped or damaged. Look closely at any auctions if you plan to bid and ask for close-up photographs if you aren't sure of an item's condition.
Playskool Wooden Puzzles Lead Paint
Why does the condition matter so much? Because most of these vintage Playskool puzzles were made with lead paint. If your child is actively chewing on toys you should refrain from using any toy that contains lead paint or materials.
Even if your child is not biting on things you must decide whether playing with these toys is worth the risk. If you decide to give them to your child make certain the toys are in good condition without flaking or chipping lead paint.
If you are uncertain or concerned lead test kits are available for testing.