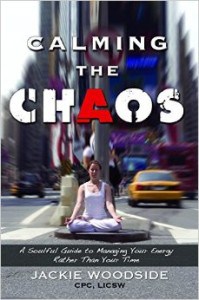 Book Description:
Far too many people in contemporary culture feel they don't have enough time to "get it all done." The stress of this chronic overwhelm creates a disorganized mind that leads to a chaotic life. Based on her highly acclaimed "Energy Management" workshops, and drawn from over 25 years of counseling and coaching experience, professional trainer and speaker Jackie Woodside shares her breakthrough methods that lead to becoming the least stressed, most productive person you know!
In Calming the Chaos, you will learn the step-by-step skills and thought processes that lead to increased productivity and peace of mind. Jackie's approach stems from the new frontier of human performance called energetic consciousness. Part philosophy, part psychology, fully practical application, you will learn:
Why there is no such thing as time management and what to do instead.
How to manage your energy instead of your time and stress.
The three-step formula for managing every component of your life for the rest of your life!
Why "to-do lists" are a set up for failure and what really works.
"The Three Strikes Rule" that will end procrastination for good!
How to always know that you have the time for what you want and need to do!
Many books promise to change your life. Applying these principles will make this a reality!
My Thoughts:
This quote is a perfect summation of this book:
"Calming the chaos means you recognize the sacredness of this life here and now, not living in the hope that life will get better 'someday.' It means being and doing the things that align with your highest sense of self, with your deepest desires and passions."
So how does one go about recognizing the sacredness of life? According to the author the journey begins by taking note of the way you manage your energy. How do you interact with your environment, well-being, relationships and finances? The author begins by guiding readers through an energy drain inventory.
Here are the types of questions you must ask yourself.
Do you live in a clutter filled home or workplace?
Do you have stacks of mail and paperwork that you haven't managed?
Do you misplace things?
Do you fail to get enough rest or feel fatigued?
Do you work long hours without adequate periods to rest and recharge?
Do you procrastinate on daily tasks?
Do you worry about money?
Are your bills late or overdue?
Do you have difficulty letting go of upsets and sometimes blame others for circumstances?
Do your relationships feel more draining than fulfilling?
Based on your answers to these questions and fifteen others you can determine how well you are managing your energy. Are you enjoying the full life benefits of peach of mind, vitality and well-being or are you experiencing negative life outcomes as a result of the chaos around you.
If you fall into the second category, if your life feels difficult and draining, this book will guide you through a series of steps to find more peace and tranquility.
I connected quite deeply to this paragraph:
"what happens when you actually have a couple of hours with no meetings or no place you have to go? Do you sit down and become wildly productive ticking things off that you know you want to accomplish?" No, you don't, do you? Do you know what happens when you have that open space in your schedule and there is so much in your head? Your mind goes into a blur or what I call "the dumb air" and you can't think straight. So you do busy work, a little bit of this, a little bit of that, a few emails, check your Facebook page, read the news online… and then at the end of all that busy work you only have a half hour left before your next meeting so you can't start anything too involved in such a short period of time! And it is not your fault. It is not because you are lazy, disorganized or inefficient; you are simply not trained in managing your Self in time.
Does this sound familiar? How are you spending your time? Do you think you are wasting the valuable minutes you have here on earth? Would you like to learn how to harness your energy towards the things that truly matter? If so, buy a copy of this book or pick up a version from your local library. Readers will find very sound advice for creating a more meaningful, better balanced life.
I already follow much of the advice in this book, but it still opened my eyes to a new way of perceiving my life and improving upon it.
Author's Bio:
Jackie Woodside, CPC, LICSW is a psychotherapist, coach, speaker and author, specializing in the power of managing personal energy, rather than time or stress. An Amazon bestselling author of 'What If It's Time for a Change?' and highly sought-after speaker on leadership and empowerment topics, Jackie conducts training programs for public, private and government sectors nationwide.