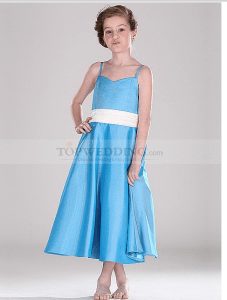 My future sister-in-law asked me to be a bridesmaid in her wedding. "Are you sure?" I asked, "I won't be insulted if there is someone else you'd rather have standing beside you." "No," she said, "I'm certain."
After waiting over a year and a half to conceive I hadn't told anyone in the family I was pregnant. I wanted to wait until a few weeks into my second trimester. "I'll wait until I have to tell them," I told my husband. "I'll wait until my belly is about to give me away."
I was nervous about being a bridesmaid. I didn't have an exact date yet, but I knew dress shopping would take place before I was ready to reveal my pregnancy.
Sure enough a date was scheduled weeks before the second trimester. My sister-in-law spent weeks scouring the internet for dress options on websites like lilybridal. After narrowing down the options all of the bridesmaids gathered together to try a few on. We ventured into a number of dress stores including David's Bridal and visited a few smaller shops selling Allurebridals.
Each time I entered the store my nerves flared. As I stood in the dress shop the other bridesmaids selected tight fighting gowns with little give in the stomach area. Would I have to try on a dress that might reveal my tiny baby bump?
I suggested everyone else try on the dresses first. Thankfully someone disliked each of those options before I had to try on a dress that might reveal my tiny baby bump.
I nudged them towards a few with empire waists and by some grace of God they all settled on one that would work with my blossoming belly.
Weeks passed between the time the dress arrived and the time I told the bride-to-be I was pregnant. I ordered a dress that was a few sizes bigger than my current size, but weeks before the wedding it was clear it would be too small. I visited a local shop where a kind gentlemen took pity on my situation and readjusted the seams to give me more room.
I picked up the dress a few days later, but it still didn't fit. I hadn't gained a ton of weight during that pregnancy, but my baby bump was high and it pulled the dress in odd directions.
With absolutely no chance of wearing the dress and breathing at the same time I made a crazy decision to remove as many seams as possible. The dress was constructed of two layers. A sheer material on top and a thicker layer underneath that served as a slip of sorts. I began chopping away at every seam and sewing them back up, (by hand), on the very edge of material. I hoped there was enough material that no one would notice the changes I made.
My due date was a month away from the date of that wedding and it seemed my belly grew a bit each day, but by some miracle on the day of the big event the dress fit. If anyone could tell I altered the dress no one mentioned it.
Dressmelody is helping one reader avert bridal party disaster by giving away a beautiful flower girl dress . To enter, simply use the Rafflecopter widget below (it might take a second to load).