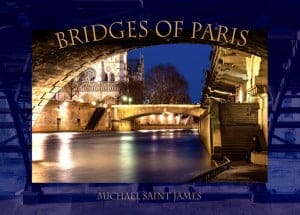 Book Description:
Bridges of Paris is a large-format coffee-table book, with over 350 original color photographs, which casts new illumination on the City of Light. The 37 bridges over the Seine River emerge as beautiful, historic destinations rather than unnoticed thoroughfares. The book features stunning portraits of each bridge as well as intimate riverside moments. Once you've experienced this river tour, you will never see Paris the same way again.
Living as a Parisian for a year, author Michael Saint James left his American lifestyle and spent his days and nights capturing images from over, on, beside and under the bridges of Paris. With over 30 years experience as a photographer, educator and world traveler, Michael immersed himself in French culture to search out his authentic artist self. The result is a visual treasure to share with everyone.
My Thoughts:
Fifteen years ago my grandmother mentioned her desire to visit Paris. Her interest in fashion and aesthetics drew her to that one particular spot on the globe. One afternoon we talked about her lifelong regrets; the various decisions and actions that she would change about her past. The things she would do differently if only a magic genie could grant her the chance to change her personal history. Number one on that list was failing to visit Paris in her twenties.
At well over ninety years of age her opportunity to visit the city has passed. She has neither the means nor the stamina to travel long distances. If she miraculously managed the flight she certainly wouldn't be able to walk the cobbled streets. Her romantic vision of pausing to look in store windows and stopping to dine in French bistros is no longer possible.
When I was offered the opportunity to review this book I jumped at the chance. I knew my grandmother would love to look at the images and I decided to pass this book along as soon as I finished reviewing it. The book contains hundreds of photographs of the city's bridges.
The author includes both large-scale photographs of the bridges as well as detailed pictures that capture the intricate designs and engravings.
My favorite photographs were captured in the early evening as the sun sets over the city and at night where the lights seem to dance off the page.
This is a beautiful coffee table sized book that I know my grandmother will love. The next best thing to visiting a place is watching documentaries, reading books and looking at pictures of a place you long to see. I know my grandmother will love seeing the people and sights captured by Michael Saint James.
Author's Bio:
Michael Saint James' artistic pursuits include award-winning book design, film editing, and sound recording, as well as his first love, photography. Saint James is a world traveler, having visited more than 50 countries – doing everything from photographing penguins in Antarctica to trekking the Himalayas.
As an educator with California teaching credentials, he has taught media production and technology arts as well as photography, art history and visual storytelling. He is an expert speaker on Impressionist and Post-Impressionist art. Indeed, he walked in Vincent Van Gogh's footsteps through the Netherlands, Belgium, and France in order to immerse himself in that troubled master's vision.
The father of two grown children, Saint James once owned a café in Berkeley, California. He has bicycled from Las Vegas to Washington, D.C. and is rumored to play a mean blues harmonica.
Disclosure of Material: I received this book for free, but the opinions I have expressed are my own.