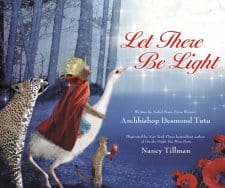 Let There Be Light was written by 1984 Nobel Peace Prize winner Archbishop Desmond Tutu and illustrated by New York Times best selling author Nancy Tillman. I was unbelievably excited to receive this book. Tillman is the author of On the Night You Were Born, which is one of my favorite children's stories.
I received that book as a gift just before my son was born and could not read it aloud without crying for the first few months after his birth. In fact, since his birth I have gifted it to a number of friends that had children. In my opinion On the Night You Were Born is the quintessential book for every new child. It received five stars on Amazon with over 522 reviews.
I suppose I had my sights set incredibly high when I received Let There Be Light and as a result I was a bit disappointed. Let There Be Light is a children's book that captures the story of Genesis and God's creation of the world in seven days.
Based on the illustrations I would rank this book quite highly. The artwork of landscapes and animals is truly stunning. I love how the images correspond to the beauty God creates in seven days. I did think the final verse was lacking a bit. After all that God created Archbishop Desmond Tutu simply writes "God looked at everything that he had made and clapped his hands together in delight, 'Isn't it wonderful.'" I didn't think this was a particularly powerful statement for such a miraculous undertaking and the text did not flow as cleanly as the words written on other pages.
I did enjoy this book and my two year old son asked me to read it to him multiple times. He loved pointing to the pages with animals and explaining all that he recognized.
Disclosure: I received this book free from the publisher through the BookSneeze® book review program. I was not required to write a positive review. The opinions I have expressed are my own.