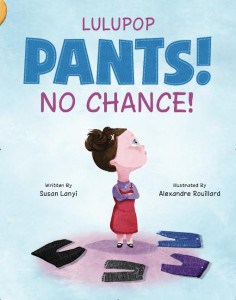 Book Description:
Lulupop rarely puts up a fuss, except when it comes to wearing pants. Dresses, dresses, dresses, is all she will ever wear! With time, a little drama, and no lack of imagination, Lulupop realizes that wearing dresses is not always the best choice.
Author Interview:
In your picture book "Pants No Chance," Lulupop, the main character loves dresses. When you were a little girl did you love dresses? If yes, do you still love dresses?

As a little girl I did love dresses but only certain ones, depending on the fabric and style. I remember being around three years old and my mother wanted me to wear a particular dress. Although I was still too young to express my discomfort with it, I do remember throwing a tantrum to get out of wearing it. Unlike the mother in my book, my Mom won the argument and I was forced to wear the uncomfortable dress.

What genre do you write and why?

"Pants! No Chance!" is my first picture book but I write for adults as well. I have short stories about everyday things that happen to me. Real life is where I get my ideas. I decided to write picture books because when my kids were little I read to them a lot. Many picture books did not appeal to me. Because we read picture books over and over to our kids, as a parent, I wanted to write a book that was entertaining for parents and their children.

Do you ever get writer's block? What helps you overcome it?

I get writer's block all the time. To overcome it, I take a break from my writing and hope that eventually I will have a breakthrough. Sometimes I begin a totally different story. Often I rely on my subconscious to work while I am focused on another task. It usually does and then I revert back to writing the old piece.

Do you write every day?

Although I wish I could answer yes, I don't. Often whole weeks will go by and I haven't written anything. My three kids are still young and they take up a large amount of my time. Writing is currently a hobby but once my kids are a bit older, I hope to make it my profession.

Do you think it's important to have a mentor? Did you have a mentor?

Yes. Without my mentor, I'm not sure I would have written this book. Having someone with experience in the industry supporting me made all the difference. My good friend Elaine Arsenault is my mentor and the author of eleven children's books. When I mentioned to her that I had an idea for a picture book she encouraged me to write it and once it was written she pushed me to send it out to publishers.
My Thoughts:
As a little girl I distinctly remember asking to wear dresses every single day. My mom was fortunate enough to receive bags full of hand-me-downs from a family friend and my closet was filled with dresses of every texture and color.
When I look through the photo albums of those early years I see picture after picture of myself wearing those dresses. There I am sitting in front of my Easter basket with a violet dress trimmed with delicate floral shaped buttons. On Christmas day I am posing in front of the tree wearing a deep red velvet dress adorned with white lace.
My mom only kept one or two dresses from my childhood, but despite not having seen them for over thirty years I can still distinctly recall the way a few of them looked and the way I felt when I wore them. I loved putting on tights and dress shoes and twirling around the living room as the dresses fluttered up and down around my legs.
By the time I was six or seven I completely outgrew this phase. My mom said I quit wearing dresses cold turkey. One day I woke up and said, "I don't want want to wear dresses anymore." I don't remember this decision, but when I told my mom the story of Pants! No Chance! she said I behaved exactly like Lulupop. One day I simply changed my fashion preference.
As a mom to a three year old boy I have never faced a fashion conflict. Well that's not entirely true, I do struggle to get my son dressed every morning since he would much rather run naked throughout our home, but thankfully he doesn't fuss over which shirt or pair of pants is chosen. I know a lot of mothers with young girls though who say getting their children dressed can be become quite a power struggle.
I love that the mother in this story allows her daughter to wear dresses even when she doesn't think it's a great idea to do so. I also love the fact that Lulupop learns from the natural consequences of her actions.
After failing to heed her mother's advice she figures out that wearing dresses might prevent her from participating in enjoyable activities like playing sports, riding her bike and picking apples. After dealing with the consequences of sitting out, getting bug bites and ultimately catching a cold she reflects on her decisions and recognizes that she can now choose a wiser path.
Disclosure of Material: I received this book for free, but the opinions I have expressed are my own.