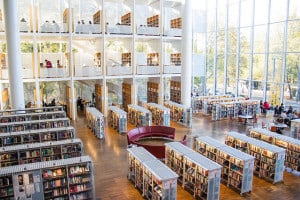 One of the best things about blogging is revisiting old posts. Reading my own words helps keep me accountable to myself. As a result of recent home renovations I created a little note to myself called A Few Things I Learned While Nesting, Purging and Streamlining.
Lesson #7 including the following:
Books are a huge waste of money if I never find the time to read them. I am not allowed to bring any new books into the house until I read the ones I already own. After I read them I will pass them on to someone else. I almost never read the same book more than one time so why on earth am I putting them on a bookshelf for later.
When I was a child I absolutely loved visiting the library. I remember exactly how that building was configured. How the long checkout desk stood at the entrance and how many steps it took to reach the children's section after walking through the front door.
I've written many times about my love of reading and about my strange habit of buying books, but never setting aside the time to read them.
For years friends, family and readers of this blog have recommended borrowing books from the library, but I've always been against the idea. Our local library is dark, dingy and quite frankly a bit disgusting.
Before my son started preschool I began taking him to story hour once a week. Every Monday we walked straight to the children's section and then straight back out to the car from there. My experience in other parts of the library haven't been pleasant so I avoided going back there. The books I want to read are never available and the ones I find interesting are typically stained, ripped, written on or water damaged.
So every week despite being inside the library I refused to check out any books for myself. I continued to buy books unnecessarily and worst yet never found the time to read them.
That is until a few months ago when I began reserving library books online. When my son was younger we read books three to four times a day. In the morning we read between six and ten books, before his afternoon nap we read another handful and before bed he chose another three.
Although we own boxes full of children's books, (primarily gifts and hand-me-downs), I began to get bored from reading the same stories and rhymes day after day and week after week. I didn't want to spend a lot of money on books he may outgrow quickly so I searched for the best books for three and four year old children and searched the catalog at our local library.
While most of the books weren't available immediately I submitted a simple online request to reserve them. A few days later I received an email alert that the books were all ready for pickup.
Every two to three weeks I pick up a new set of books and return the ones we checked out earlier in the month. The books I reserved are all waiting for me on a long shelf right next to the checkout desk. I simply walk in, search for my name on that shelf, gather up my books, scan everything and walk out the door. It typically takes less than five minutes from start to finish.
I find that the books are in much better condition than the ones I see on the shelves at the actual library. I can't account for this discrepancy, but in the past three months I've only received one book with ripped pages and children's scribbles.
My only regret is that I didn't start using the online reservation system earlier. While I typically purchase used books from eBay and half.com I'm pretty certain that I still spent hundreds of dollars on books over the past few years. From this point forward I don't intend to spend a dime.