Most of the time I'm happy with my frugality. I don't mind clipping coupons, waiting for sales or even going without. I like watching the figures in my bank account rise while simultaneously watching my mortgages shrink. I'm the kind of girl who brings a $10 coupon to brunch with my girlfriends and then asks, (without batting an eyelash), if they'd mind choosing the half-priced matinee over the late-night show.
I've been counting pennies for as long as I can possibly remember and while I relish the fruits of my labor I recognize I can also be frugal to a fault. There was the time I wasted thirty minutes searching for coke reward codes that I clipped but temporarily misplaced. Do you know how many codes it takes to earn a decent reward? Let me just say that twenty minutes could've been better spent.
There was the time I nearly kicked myself for losing $5 worth of coupons somewhere between the entrance of the grocery store and the checkout line. I actually spent thirty minutes after I left the store mentally retracing my steps.
Or how about the time I tortured my husband by searching for coupons for every item he unexpectedly threw into our shopping cart. Our fun little romp to buy ingredients for a new recipe turned into a torturous forty minute trip.
A few weeks ago I realized that the crappy, too-short-for-a-six-foot-girl stroller I registered for was preventing me from taking walks with my son. The weather has been relatively warm but I've walked through the neighborhood only a handful of times this winter. To be honest it feels like pure torture to push that awful stroller around. I feel my shoulders hunching to reach the low handle and within twenty minutes or so my back begins to ache. I still have a fair amount of pain from prior medical problems, so I'm not keen on making this part of my body hurt anymore than necessary. As a result we haven't been walking much.
I knew the stroller was downright awful, but I hated the idea of shelling out money to buy a new one. Simply put, strollers that fit my size and stature aren't cheap.
One particularly warm day I took my son outside to run around the backyard. When he was finished we took a walk down the street, holding hands, picking up leaves and investigating every acorn he found along the way. It was a beautiful afternoon and I wanted to stay outside but I knew he was getting too sleepy to walk much further.
I wanted to take him for a walk, but really didn't want to push that stroller. As we headed back inside on that sunny day I realized the simple truth: my frugality was interfering with my enjoyment.
Over the past few years I've gotten rid of a lot of my compulsions. I don't clip coupons too often anymore and I don't wake up early every Sunday morning to stock up on freebies at the drugstore.
While I've gotten better about things I still have to remind myself every once in awhile to sit back and relax. While saving money is important it is not the end goal. In fact, in my mind there is no longer a finish line to this race.
I want my life to feel like a healthy 5K challenge where I can run, jog or walk my way up and down streets while people clap and cheer no matter how fast or slow I travel. I want my life to feel balanced. I want to save when and where I can, but also recognize that I will not deprive myself just to save a buck.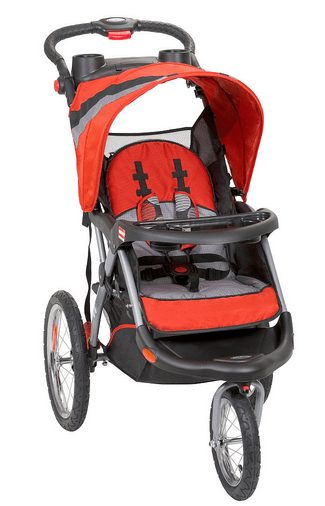 With this new philosophy in mind I bought not one, but two new strollers. One very tall jogging stroller for long walks around the neighborhood and one easy to fold stroller that fits neatly into my very small trunk.