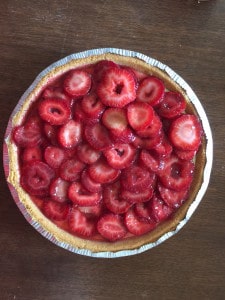 Things have gotten a little off track since the arrival of child #2. Somewhere in the middle of my third trimester I lost the desire to cook a decent meal and as any new mother knows things didn't exactly get easier after birth.
Last week I set a very small goal to get back in the kitchen. It's been nearly five months since the new addition joined our family and I have a little more breathing room these days.
So I set a goal for myself: four home cooked meals a week. If I cook three to four meals and produce enough in at least two of those meals for leftovers then dinner will be on the table at least five nights at week. That leaves one night a week for take-out and another night for a hodgepodge of breakfast for dinner or something super simple like grilled cheese.
For the past two weeks I've met my goal, although for the life of me I cannot seem to remember what I cooked for dinner each evening. Pregnancy brain, maybe?
Here are a few meals I made. For the record I seem to stick to the same meals over and over again. It's tough to break routine. Sigh.
Cheese Quesadillas
Cheeseburgers
On Tuesday my oldest helped me in the kitchen. I gave him very specific tasks and he set timers and pretended the meals needed to be prepared extra quickly. We don't watch much television in our house, but every so often he watches Chopped with me and the idea of running out of time seemed to heighten his enjoyment. Over the weekend the little guy also helped me make a custard pie.
On Wednesday morning I prepared dinner after the baby woke up but before his big brother hopped out of bed. I'd love to try this a few days a week. It means waking up a little earlier, but it was so much easier to prepare food while the house was quiet. We sang and danced together in the kitchen and when I needed free hands he sat in his highchair and played with toys.
My drive to cook just happens to coincide with eat down mode; the desire to clean out all of our refrigerators and part of the pantry in preparation for vacation. The goal is to leave the house with nothing but ketchup and mustard in the fridge. That way we don't have to drag extra food with us or worry about it spoiling while we are away. With the last three meals I was able to empty most of the vegetable bin. I saved a bunch of onions, peppers and a few cloves of garlic from spoiling. I also used a five pound bag of lemons. Yay for keeping food out of the garbage!
I often find it easy to create a goal like this but struggle to follow through with it. To keep myself accountable I am adding the menu to my monthly calendar. Let's hope it gets easier to bring dinner to the table.