My son was born two weeks before Halloween. His projected due date was actually just a couple of days before the big holiday so I wasn't certain that he would arrive in time to celebrate. We didn't know the gender before he was born so I purchased a gender neutral costume from the thrift store. The outfit was a little too big for him, (he wore newborn clothes for the first few weeks), but that didn't stop us from dressing him up like a pumpkin and snapping tons of pictures. It was well worth the $3 price tag.
Fast forward one year and I cannot wait to dress the little guy up for Halloween. I went back to the thrift store in search of costumes but I couldn't find any for his size that weren't extremely worn and tattered so of course I turned to the Internet where I found this adorable owl costume.
Oh yeah and then there is this ridiculously cute peacock costume.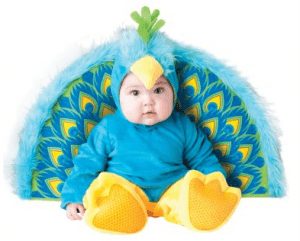 These two costumes cost roughly $55 a piece, but right now I can get 10% off with the coupon code casket10 and even more off if I spend $100 or more. So I'm considering dropping some serious dough on a seriously adorable little outfit for my little guy. I know it's not the frugal approach but I'm considering it nonetheless.
Maybe I should check out resale prices on eBay. At least if I do buy one of these I should know how much I might be able to earn back by selling it. Any thoughts, ideas or opinions?