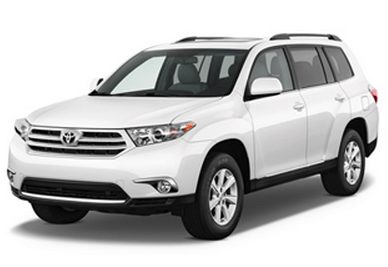 This weekend my husband and I purchased our first new car in over thirteen years. We bought a brand new 2013 Toyota Highlander Limited. I spent a lot of time researching the best ways to ensure a good price, so I thought I'd share my experience in case it helps anyone else looking to buy a new car.
We weren't sure if we should buy a new car or focus on a slightly used one, preferably one that was only a year or two old. One sunny Sunday afternoon my husband and I visited CarMax where we wandered through the lot looking at various SUVs and Crossovers. It was there that we narrowed down our vehicles of choice to a Toyota Highlander and a Toyota 4Runner.
We asked to test drive each vehicle. While we both liked the 4Runner a little bit more we decided that the Highlander had much more comfortable seating in both the front seats and the second row. We also liked that the car could fit up to seven if necessary. We're still not sure if our family will expand any further, but we wanted the option for more space if it was needed. If nothing else it will allow me to transport my son's friends as he gets older.
I highly suggest test driving a couple of different vehicles before choosing one. I wish I had done this in 1999 when I bought my Honda Civic. I didn't realize how small and uncomfortable the car until it was too late.
After narrowing down our vehicle of choice I researched prices and found that used cars weren't that much cheaper than new ones. Plus many of the older cars had lots of options that we didn't necessarily want or need.
Once we decided to buy a new car I began searching for the best possible price. I went onto Edmunds.com and ran a query to determine the True Market Value. I wrote down the invoice price of each option I wanted as well as the true market value, which indicates what other people in my area paid for the same car.
Next I started my inquiries online. I am fortunate enough to live in an area with a lot of different showrooms, so I pulled up the websites of various dealerships and searched for cars that met my criteria.
Next I weeded out any vehicle that included extra options I didn't need. There is no sense in paying for items in a car that you don't want. They will add unnecessarily to the bottom line. I ruled out any car that contained features that weren't on my original options list. In essence, I ended up with the basic model of a car with nothing more than optional floor mats or floor mats and cargo cross bars.
If I found a car that met my criteria I reached out to the dealership via their online query form and asked for their lowest price. I ended up sending inquiries to four dealerships in my area. Three of the dealerships in our area didn't haggle, so I knew that there price was the absolute lowest I could receive.
I compared the numbers of each dealership on the base price of the vehicle and then started asking follow up questions. Toyota is currently offering a promotion that includes a $500 cash back rebate or 0% financing. Three of the four salesmen didn't tell me that their lowest price included the rebate until I asked them. If I wanted the 0% financing I had to add $500 back to their lowest price. I found that kind of shady, but clearly a lot of places do that so it's definitely something to be aware of when checking prices.
Once I narrowed down the lowest prices I asked each salesman how much it would cost to add extra options that were not included in the vehicle they had for sale. These included items like a tow hitch as well as remote engine starting capabilities. The prices of these add-ons varied greatly among the dealers.
For instance one dealership told me it would cost over $1000 for the tow hitch while another quoted me less than $700. While one place offered the base vehicle for less it was also the dealership with the most expensive add-ons.
My husband and I decided to try our hand at negotiating and visited the one dealership that didn't take the no-haggle approach. We walked in with an email from the dealership offering the lowest price and asked if the salesman could do any better. It was the same person that had responded to my email inquiries and when he pointed out why his prices were valid I referenced the detailed information I previously found online. I think I could have haggled a little more with him, but I felt good with the price we were offered.
Even if he hadn't matched the price or offered us a lower number his prices were still the best after we factored in the add-ons we wanted. We came to an agreement on the pricing and were then sent to speak to someone else in the servicing department about the extra options. My husband was able to negotiate a little on those too.
Before the Internet individuals would spend hours negotiating prices. When they finally agreed on a price it was difficult to know whether or not they got a good deal on their vehicle. These days with the help of Edmunds.com and a little research from the comfort of your own home you can feel good about the price you pay. You can start the ball rolling on negotiations before you even set foot in a showroom.
My best advice is to get the facts and start a bidding war through online inquiries. By the time you show up to buy the car you sit down, agree to the price and write a check. It took a lot of research and time to crunch numbers, but by the time we arrived at the dealership it couldn't have been any easier.