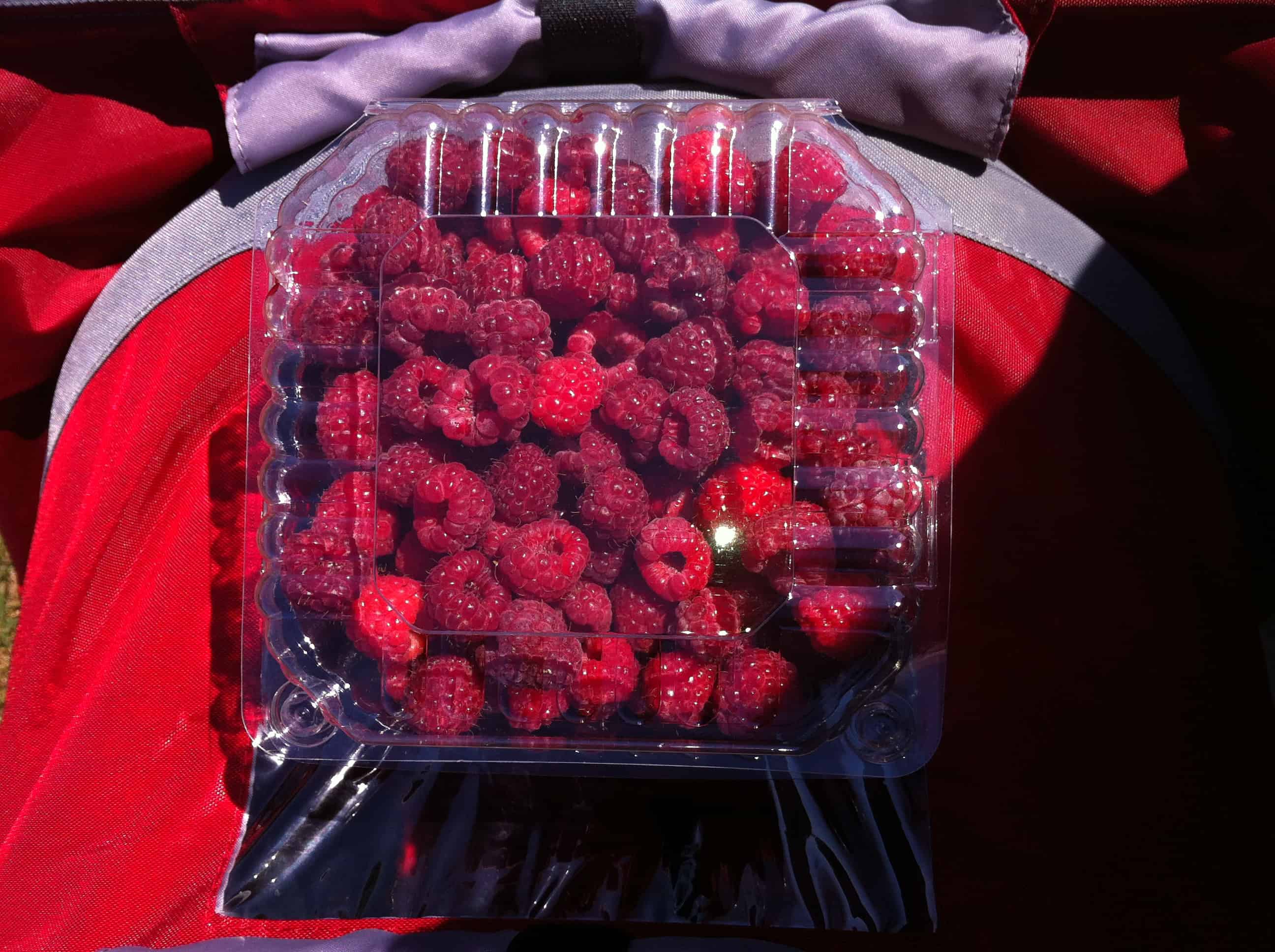 A few weeks ago I packed my little guy into the car and headed out to a local farm that allows customers to pick their own produce. There are a couple of farms that are closer to our house, but they primarily grow apples and pumpkins. The farm I chose isn't exactly around the corner, (thanks to an unexpected detour it took us just over an hour to reach the fields), but they have a huge variety of produce available. We picked spinach, beets, apples, raspberries and swiss chard. I should've stopped at the broccoli patch too, but by the time we picked the raspberries, (which was a little more labor intensive then the other fruits and veggies), the little guy was itching for a nap.
Unfortunately I lost track of just how much money I spent. I paid primarily in cash in order to save the farm unnecessary credit card fees and I didn't keep track of all of the receipts I was handed. I can tell you that I came home with a giant bag of spinach for only $5. It was nearly the height of my son and my two year old is in the 99th percentile for height!
There were a lot of people picking pounds and pounds of apples. My son and I just picked a handful. I went more for the experience then the produce. I wanted my son to physically pull an apple from a tree or pull spinach out of the ground. I think he liked picking beets the best. You look down and see nothing but green stems, but then yank just a bit and out pops that beautiful wine colored beet. He kept shouting "more bee", "more bee".
I used the beets, spinach and swiss chard in my morning juice and we ate the raspberries and apples for snacks. I've never savored a raspberry as much as I did after spending thirty minutes picking them. That's for sure!
As luck would have it my mother-in-law has also been providing us with a variety of fruits and veggies from a local CSA. We received broccoli, carrots, assorted peppers, tomatoes and escarole. I now see the value in CSAs. Not only do you get the satisfaction of purchasing from local farmers, but you also get a chance to tickle your culinary senses.
Each time I receive a bundle of veggies I search the Internet for delicious recipes. Yesterday I made a ridiculously tasty broccoli and cheese soup. It is quite possibly one of the most delicious recipes I've ever prepared. I also used the tomatoes in this fresh tomato soup. (For the record I used a very small amount of black pepper. The recipe calls for quite a bit.) I'm a bit stumped on the escarole, but I'm contemplating this dish and plan to substitute it for spinach. If anyone has recommendations for escarole feel free to leave me a comment below!
I tried a couple of new recipes last week and wanted to include them in this post. This chipotle cashew chicken was such a hit in our house my husband asked me to add it to our recipe book. That book, which he made by hand for me one Christmas, includes only the most beloved dishes. I also prepared this tortilla soup a few nights after, which was pretty tasty.
My son has been taking two hour naps, which gives me plenty of time to chop, cook and stir while he sleeps. The house smells so unbelievably aromatic and inviting and sometimes when I take the food off the stove I can't believe how good it tastes. I guess I still don't trust my cooking instincts.