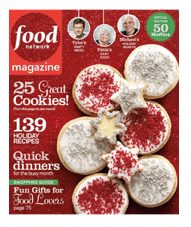 The fine folks at Zinio are offering 10 One Frugal Girl readers a free magazine subscription.
Not familiar with Zinio? The website has thousands of top magazines from around the world and you can browse and purchase subscriptions or single issues instantly from your computer or mobile device to read wherever and whenever you like. The Explore section lets you read – even without a subscription – thousands of articles from your favorite magazines and share them with friends.
Zinio has 300 magazine titles available at up to 50% off already-discounted prices. Sample titles include: LA CUCINA ITALIANA, VEGETARIAN TIMES, FOOD ARTS, CLEAN EATING. You can find more and receive 50% off by clicking here.
According to Zinio BETTER HOMES AND GARDENS has also put out some fantastic special holiday issues at 30% off: Food Gifts, Party Food, and even an entire issue devoted to Christmas Cookies. To learn more click here.
If you'd like to win a free magazine subscription simply leave a comment in the form below telling me which magazine you'd like to win. I'll pick 10 winners at midnight on Sunday, December 23rd.
Update: The winners have been selected. They are canadian_sadie, Newlyweds on a Budget, evelyn, Amber, Jennifer, Michelle, Michelle Hart, Cindy Brick, Sense and Mary. Congratulations to all of the winners! I will send an email shortly. Please respond to my email within 48 hours.