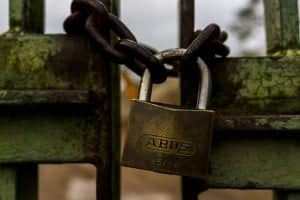 This year was not a stellar rental season for us. We received five bookings rather than the ten to twelve we've come to expect each summer. The rental company provided a bunch of excuses for the lack of bookings. Among which were "school let out late due to snow" and the "fourth of July fell on a Saturday so fewer people wanted to travel." Any way you look at it the overall rental income was less than half of what we typically earn in a season.
To add insult to injury we experienced outright theft for the first time in ten years. When we arrived at the house a number of items were missing from our owners closet and kitchen. A member of the cleaning crew, realty company or one of the guests broke into our locked closet and stole personal items including family heirlooms and electronics.
They also stole three large Pyrex casserole pans with lids, three mixing bowls, three decorative bowls with lids, a Keurig coffee maker, HDMI cables, Blu-ray movies, a photo keepsake box, a video baby monitor, Apple charging cables and a bathroom scale.
They also took brand new band-aids, razors, hair extension,hair replacement, nail polish, first aid related items, thermometers and paper towels.
We've never experienced theft like this before. The total for all goods was over $600. The rental company offered us $250 to cover part of our losses, but we'll need to foot the rest of the bill.
I'm angry that someone took items that didn't belong to them, but I'm particularly sad that some of those items were gifts from deceased family members that simply cannot be replaced.
My husband and I strive to make this house nice for our guests. We know that many families can only take off a few days each year and provide our guests with all the amenities that make a beach house a home. That includes a kitchen stocked with pots, pans and every other item required to make delicious home cooked meals. It also includes nice bowls to present the food and Pyrex dishes to store the tasty leftovers.
Similarly we keep beach chairs in the car port and swim floats in the pool house. These are available to all of our guests. We hope that renters will use these items and treat them with care. We hope that these items will be available for the first renter of the season and last all the way until the last. If one bad renter breaks things or steals them the rest of our guests will have a less enjoyable stay here. I am disappointed that someone ruined the experience for everyone that followed.
On top of taking the items that were available to everyone, these people took it upon themselves to open a locked closet and take out items that were clearly not intended for guests. We keep special items locked in the owners closet; items that are clearly meant for our use and our use alone.
At first I was angry, but as I reflect on the issue I'm quite sad. Our house rents for $2500 a week in the peak of the season so it seems strange that someone could afford to spend that amount on a rental and then feel the need to steal.
I'm not sure who decided to swipe our stuff, but I hope whoever took it really needed it. The whole thing just makes me sad. Especially for my husband who lost a family memento, which can never be replaced.