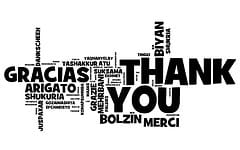 Once or twice a year my dad invites a few of his friends down south to spend five or six days at our beach house. My parents always arrange the date around a convenient time for us. In essence, they make certain that we won't have a need or desire to stay at our house during that time.
My husband and I are happy to share the house with my parents and their friends and because they stay during the off season we've never asked them for a rent check or any other form of payment.
My parents typically invite three other couples to the beach with them. The first year two of the couples bought us a thank you gift. They purchased the gift together and wrote both of their names on the card. The same thing happened the following year. This time around we received a very generous gift from one of the couples, but nothing from the other couple. The third couple didn't provide a gift this year or any other.
For the record I don't expect a thank you gift from any of the couples. I do find it interesting though that some couples always think to send us a gift and others never do.
I am not always great about providing thank you gifts, but I do send cards and notes quite frequently. Do you have a rule for providing thank you gifts to others? If you stayed in a friend's beach house do you think you would provide a gift to them?