In July of last year, my husband and I debated the pros and cons of homeschooling our two children, ages 5 and 8. After weighing our options and considering all angles, we decided to homeschool them for the first time.
As a personal finance enthusiast and all-around money nerd, I started the school year with a list of financial questions about our new endeavor.
I wanted to know:
How much does it cost to homeschool?
Is homeschooling expensive?
How would the price of educational materials impact the quality of our children's education?
Did I have to pay for high-priced curriculums, or could I create a frugal homeschool program while still teaching my children everything they needed to know?
Frugal Homeschooling
It turns out homeschooling can be expensive, but it doesn't need to be. Frugal homeschooling is an option. You too can become a frugal homeschool family.
This post will step you through the money-saving lessons I learned this year, as well as the financial mistakes I could have avoided.
How much Does It Cost To Homeschool?
If your children attend public school, you might not think much about school-related expenses, but they do exist.
At the beginning of the year, you pay for school supplies and new clothes. In the middle, you might pay for field trips and extracurricular activities.
The cost of homeschool versus public school is similar in some ways but different in others. So let's talk about the list of school-related expenses you might incur homeschooling.
What might a homeschooling family need or choose to buy?
Curriculums, books, textbooks, and workbooks
School supplies (pens, pencils, paper, etc.)
Organizing supplies (bookshelves, shelving units, rolling carts)
A place to complete schoolwork (desk & chair)
Field trips (gasoline, museum membership costs)
Tutors
Specialized teachers
Computer
Internet access
Online courses
Science equipment
Sports equipment
Extracurricular activities (lessons for dance, music, art, sports)
State tests and assessment fees
Homeschooling costs can vary significantly. I know a few parents who spend next to nothing on supplies while others spend thousands per year.
If you are considering frugal homeschooling, take a good, hard look at the list above. We spent roughly $500 per child this year but wasted much of it on items we didn't need. We could have gotten by on less than half of that amount.
This post will lead you through my first-timer mistakes.
Frugal Ways to Save on Homeschool Supplies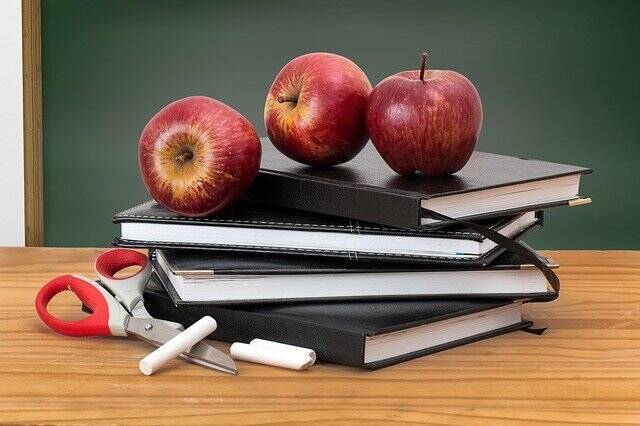 Everyone needs expensive school supplies, right? Wrong.
As a first-year homeschooling parent, I made the rookie mistake of loading up on school supplies in September. I thought I needed folders, files, binders, notebooks, and all sorts of other shiny back to school materials. It turns out I didn't need a ton of back-to-school supplies.
In public school, children need all of their materials on the first day of school, but frugal homeschooling parents don't need to buy everything before they start teaching.
If you can, avoid store shelves filled with sparkling new school supplies in September. If you do need supplies, return to the store after school starts for kids in your community. By then, you can purchase items for 75% to 90% off retail prices.
When you shop, think about the tools your children like to use. Don't buy colored pencils and markers if they prefer crayons. Don't buy white glue if they prefer glue sticks. Pick and choose carefully to avoid spending money on items your family will ignore.
Even if items are on sale, spend cautiously. We've used a tiny portion of the materials I purchased back in September.
Save with Frugal, Reusable Homeschool Supplies
When buying school supplies, think outside the box of traditional school materials.
Replace scrap paper with small, dry erase boards that your kids can use to scribble down math problems and lined whiteboards to practice handwriting and spelling.
If you plan to use a worksheet more than once, check out dry erase sleeves. These sleeves provide a great way to reuse the same workbook pages. When used consistently, you can avoid buying new books and decrease your printing costs. It's an easy way to save on ink and paper.
Smart reusable notebooks, like rocketbooks, are an excellent solution for older kids. The pages inside can be used infinitely. Best of all, you can snap photos of your children's work using the Rocketbook app and push them straight to the cloud. Those documents are beneficial for end-of-year digital homeschool portfolio reviews.
Whiteboards, rocketbooks, and dry erase sleeves cost more upfront, but your child will continue to use them for years to come. Plus, you save money while protecting the environment.
Frugal Ways to Save on Schoolroom Furniture
When we told our neighbors we planned to homeschool our kids; they invited us to visit their schoolroom—a room dedicated to their children's lessons and studies. "Oh," I thought. "Of course, I need a room where the kids can complete all of their schoolwork."
As first time homeschooling parents, we purchased two desks for our kids, a giant whiteboard, and classroom supplies, but it was all a waste of money. It turns out our kids are happy working at the kitchen table.
In retrospect, we should've used our current furniture before buying new stuff. I'm not sure why we didn't just try that first.
Some kids might need traditional desks, but ours don't. What they do need is a comfortable, sometimes quiet, place for them to work.
Our children complete their schoolwork all over the house. Sometimes they snuggle up on the couch. Other times they grab a clipboard and sit on the floor.
My oldest sits at his desk once a day to write, but otherwise, we rarely visit the schoolroom we built.
Before loading up on classroom furniture, try out your existing tables and chairs. They might work out just fine. Test them, and evaluate how things are going, but be aware that some kids need to fine-tune their environments.
Carve Out Areas for School When Necessary
For example, my youngest child doesn't mind sitting at the table working while I make lunch or my husband attends a conference call. My oldest can't concentrate in that same scenario.
Similarly, some parents may need a separate room to focus on schooling their children without other household distractions around them. I can't teach the kids in the basement if their toys are out, and I can't work in the kitchen if there are dirty dishes in the sink behind me.
Try out your current solution, but be ready to move things around if the setup doesn't work. The kitchen table might work fine for one kid, while another needs a more secluded space to focus on their schoolwork.
Even if you need a separate space for learning, it doesn't mean you need new furniture. A comfy bed in your child's room might work or a sectioned off corner of the living room.
Save on Organizational Supplies with Homeschooling Discounts
While we didn't need to spend money on desks, lamps, or chairs, we did need to spend money on organizational supplies. After we started homeschooling, we had extra books, binders, and paper in the house and nowhere to store them.
You might not need extra storage containers, but we did. Without it, we were losing resources and wasting time looking for them.
Luckily, Michaels, Jo-Ann Fabrics, and The Container Store provide discounts for frugal homeschooling families. If you need new organizational tools, make sure to ask if your local store offers discounts.
Most stores require your official homeschooling letter from the state to obtain the discount.
Save Money on Homeschool Curriculums
As a homeschooling parent, you get to choose how to teach your kids. That includes selecting the materials and curriculums you'd like to use. In some states, you don't even need to use a curriculum to teach your kid. You can unschool them.
Curriculums are typically the most expensive item on homeschooler's lists. Inclusive curriculums complete with teacher manuals, workbooks, lesson plans, and other homeschool items can cost quite a lot.
I didn't want to unschool my kids, but I have taken a somewhat relaxed teaching approach. At five and eight years old, my kids don't need a ton of formal instruction, and I don't want to place them at a desk with hundreds of worksheets.
Taking the frugal approach to homeschooling, I created several curriculums from scratch. I went out to a few websites and picked relevant subject matter to teach. I created no-cost curriculums by pulling together materials from the library and the internet. This approach might not work well for older children, but it works perfectly for my kindergartner and third grader.
In Maryland, homeschooling parents must teach English, math, science, social studies, art, music, health, and physical education. I need to teach eight different subjects, but I only bought curriculums for two of them. Those two subjects are math and science, which I'll discuss more in a minute.
Free Homeschool Materials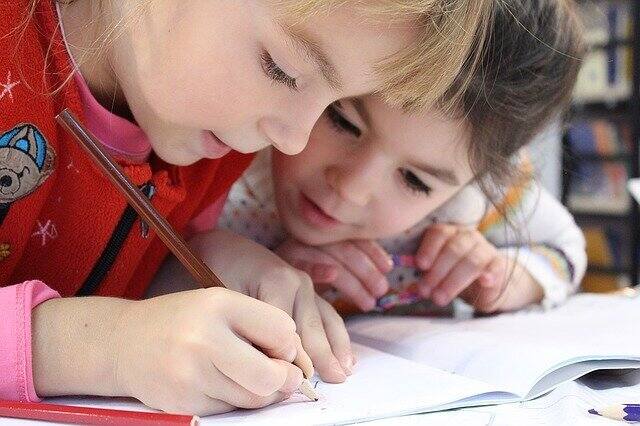 For all other subjects, I utilize free resources from the internet. For example, for art, we watch video lessons from YouTube. So far, my kids' favorites are Let's Make Art and Art for Kids Hub.
We are studying U.S. geography for social studies and learning facts about all fifty states. My five-year-old is memorizing their shapes and locations, while my eight-year-old discovers their nicknames and capitals.
For music, my kids are studying the recorder using a series of free online videos from YouTube. They enjoy learning Hot Cross Buns and Baby Shark from YouCanPlayIt.
As a homeschooling parent, you get to choose the subject matter, formulate lesson plans, create materials, and teach the lessons to your children. While some subjects may require curriculums, you can gather a lot of information from the internet.
Search for websites dedicated to your topic. Search for age-appropriate spelling lists, examples of math problems, etc. You can also create worksheets if you choose.
The most frugal approach is to skip curriculums for subject matter that you can find online.
TeachersPayTeachers is an incredible resource with lots of free materials. Simply click the checkbox for 'free' before searching for your desired item.
Please note that this may be more difficult to do when your children get older. I don't need to spend a lot for my kindergartener and third-grader, but older kids may need to gather more in-depth material on these subjects from legitimate textbooks.
Free Homeschool Curriculums
If you don't want to create curriculums, there are many resources available to help you.
At the beginning of the school year, I gathered free language arts curriculums from The Good and the Beautiful. At the time of this posting, first through fifth-grade curriculums were free for downloading. I also tried Khan Academy, which includes fantastic math lessons for all ages.
I researched a few other resources, as well. Here are the sources I checked out:
All of these sites contain free materials that can help you.
Return Unwanted Items Before Time Runs Out
Choosing curriculums isn't as easy as you might think. At the beginning of the year, I tried a few free Language Arts curriculums that didn't work out.
My oldest child was frustrated by the materials and practically in tears as he stepped through the assignments. We pivoted to a different curriculum, and it's been smooth sailing ever since.
Be prepared to purchase more than one curriculum if the first one doesn't work out. I wasn't expecting that when I started to homeschool. Despite researching the options in detail, I still chose wrong.
Before you buy, try to get an in-depth look at the material. Sites like Rainbow Resource include examples from many books. Look through the pages to decide if it might be a good fit for you.
Once the materials arrive in the mail, don't wait to look through them. If you don't think they will work, send them back before your return shipping window closes.
Cheapest Homeschool Curriculums
While I use free materials for many subject areas, I did choose to spend money on curriculums for math and language arts. I didn't need to spend a fortune on textbooks and materials, but I did want to feel confident with the resources I chose.
You can be a frugal homeschooling parent in some areas and spend in others. For me, that means spending the most money on reading, writing, and arithmetic.
If my children struggle with these subjects, they will have difficulty in other academic areas. I was willing to put the most money into these programs to help them succeed.
Be careful when using a frugal homeschooling approach. No matter what materials you decide upon, it's up to you to make sure your children learn the material.
While you can choose the cheapest curriculum for every subject, it doesn't mean it is the best choice for your child. Please pay close attention to what your child is learning and compare their performance against your goals for them.
Save Through Facebook Homeschool Groups
There are lots of other ways to save on homeschooling costs as well.
If you have a Facebook account, join a Facebook homeschooling group in your area. I've seen parents donate used books to anyone willing to take them. I've also seen large lots of curriculums and textbooks selling for very little money. In general, homeschool parents appear to be quite generous with their ideas and materials.
When you finish using your textbooks and materials, try selling them on eBay or through local homeschool groups on Facebook. You can also buy textbooks, workbooks, and other school-related items this way.
Sometimes a family will choose a curriculum and then decide it doesn't work for their particular child. I've seen many used items with only a handful of pages written on them. The rest of the book was entirely unused. Just because a program didn't work for someone else's kid doesn't mean it won't work for yours.
Save by Sharing Homeschool Costs with Other Families
If your child needs outside help from a tutor or specialized instructor, reach out to other homeschooling families that may have similar needs or desires. Many teachers provide discounts when more than one family signs up for their services.
You can also share costs for enrichment courses or special interests. For example, if your child needs guitar lessons or wants to learn Spanish from a native speaker.
Ask for Multi-Member Discounts
If you are signing up for online courses, check for multi-member discounts. Some online courses offer discounts for additional children. If you don't see an option, reach out directly and kindly ask for one.
Some programs offer up to 50% off the price when you sign up with more than one child.
Frugal Ways to Save on Homeschooling
As you can see, there are many ways to create a frugal homeschooling plan for your family. I hope this information has been helpful. If you have anything to add, please leave a comment below.