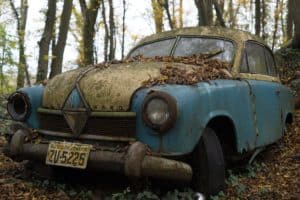 If you're a regular reader of One Frugal Girl you know that I detest clutter. Every few months I clean out my drawers, reorganize my closet and search through unused items in my home. I take books to the library, clothes to the local donation center and list higher priced items on eBay.
The change of season is a perfect time to clean out the house. I get to pack up all of the winter coats and sweaters and box up all of the boots and snow pants. I pull all of the shorts, t-shirts and swimsuits out of storage and move them into the front of my closet. Ahhh, springtime and spring cleaning, what could be better?
So when I saw an article on Washington Post recommending throwing out 50 things I knew I had to read it. I'm not a big fan of the title, because I don't throw anything other than true trash away, but nonetheless I loved the idea of finding 50 things to donate and give away.
The article is based on a book called Throw Out Fifty Things: Clear the Clutter, Find Your Life. According to the author you should follow these four rules when clearing out the clutter:

Rule No. 1: If the item, memory, job or even person is weighing you down, get rid of it.

Rule No. 2: If the thing is not contributing something positive, let it go.

Rule No. 3: If it takes you a long time to decide whether something needs to be tossed, throw it out.

Rule No. 4: If you're afraid to throw out something, get rid of the fear.
I haven't read the book yet, but I'd really love to get my hands on a copy of it. Apparently the book is divided into four parts. It starts by recommending getting rid of unused stuff, by cleaning out your junk drawers. By part three you're moving on to getting rid of the mental mess, including all of the emotional junk you've collected.
Michelle Singletary, the author of the Washington Post article, hits the nail on the head, when she writes,
"People want higher incomes so they can live a better life, and this often just means having more stuff and the debt that goes with the accumulation of it. But what if you started throwing out things? What if the purging process makes you more appreciative of what you have? This has the possibility of making you realize you can can make do with the money you have."
This has definitely been the case for me. The more I clear the house of unwanted items the more I learn to appreciate just how little I need in life. Since I started the purging process I find myself making fewer and fewer unnecessary purchases.
The first time I riffled through a box of barely worn clothes I felt sick to my stomach. Boxing up all of that wasted money made me vow not to make that mistake again. Now I try my best to only buy what we need when we need it. I'm not perfect, but I'm definitely trying to buy less.