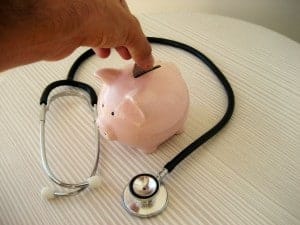 My doctor wants me to undergo a specific medical test. I am currently out of town and didn't plan to return for at least three weeks. If I seek medical attention while I'm away all services will be priced out-of-network, which means I will pay full price. We are not even close to meeting our $4000 out-of-network deductible for the year.
The estimate for the procedure is roughly $550. In order to use my in-network services I need to drive over six hours home and another six hours back. That's twelve hours of driving I did not intend to incur.
I initially planned to make the long drive, but after further consideration I'm just not so sure. I'll need to drive a total of twelve hours alone. I would probably drive home the night before the test, drive to the test that morning and then drive back to the beach. I've done this before, but twelve hours in the car alone is quite exhausting.
If I make the drive home I'll owe a $30 co-pay plus at least $80 in gas expenses. That makes a $440 difference between using an in-network provider versus a local out-of-network provider. (I've already met my in-network deductible for the year.)
So what do you think? Should I make the long haul back to my in-network doctor and save myself $440 or should I suck up the cost, stay at the beach and keep in my mind that I have plenty of money saved to pay this bill, even though I absolutely hate to pay that much money unnecessarily?
Honestly I cannot decide what to do and for those that are wondering I cannot delay the timing of the test. It must be performed during the three weeks that I am scheduled to be away.