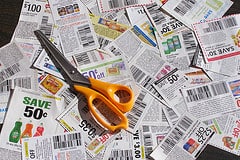 I've written about coupons many different times over the past few years. I used to sing the praises of those little pieces of paper, but over time I've turned against them. At some point along the way I decided to kick them to the curb and cancelled my newspaper subscription to ensure I wouldn't be tempted to continue clipping.
Every once in awhile my brain gives way to visions of saving and against my better judgement I try bargain shopping again. More often than not I fail miserably.
At the height of my couponing days I often wondered how much time and energy I spent trying to save money. I considered running the numbers more times than I can count, (I'm a numbers kind of girl), but often lost track of the few minutes of time spent here and there along the way.
A recent article in Parent's magazine made me wish I kept tabs of both the time I spent and money I saved. The October 2014 issue contains an article titled "Is Couponing Really Worth It?" Beneath the title is a headline which reads, "Trolling for discounts can save your family money, but it's not for everyone. See whether you're better off clipping or skipping."
The article provides a quiz to help you determine whether or not couponing will help you save money. The seven questions are:
How much free time can you devote to couponing?
Do you have space?
Are you willing to travel to multiple stores each week?
Do you buy products that offer coupons?
Are you up for reading the fine print?
How do you feel about haggling?
Are you organized?
Based on your answers you'll be labeled a "a coupon catastrophe", "coupon capable" or "a coupon champ in the making." (You can find the quiz here.)
Although the test is all for fun I did love the "coupon salary calculator" at the end of the article, which suggests plugging in numbers to calculate your hourly coupon "wage." In essence this little calculation will help you determine if saving money is worth the sacrifice of your time.
Here are the details:
How much do you spend per week on groceries and drugstore items, excluding coupons?
How much are you spending per week, including coupons?
Subtract line 2 from line 1. What is your total weekly savings?
Enter the amount you spend weekly on printed newspapers (if you use their coupons) and subscription coupon sites.
How much money do you spend weekly on printer ink and paper? (Note: The average cost per black-ink is 5.5 cents; it's 8.9 cents for color.)
Subtract lines 4 and 5 from line 3. Enter the total.
How many hours per week do you spend couponing?
Divide line 6 by line 7. This is the amount you make per hour of couponing. (Note the federal minimum wage is $7.25.)
As I mentioned I've never written down how much time I spent clipping, traveling to various stores, waiting in line and haggling over non-working coupons, but in retrospect I sure wish I did. Back in the heydey I'd drive to two or three different stores first thing on a Sunday morning in search of drugstore bargains. I'd love to know how much time I actually spent preparing and shopping. I did save a ton of money on those early morning ventures, but back then I definitely valued money more than time. These days with a toddler at home and a baby on the way I value time so much more than money!