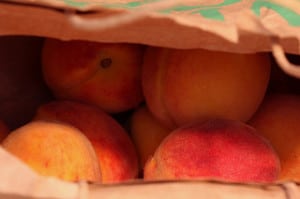 I don't like spending money. Really, I drag my feet whenever I'm required to purchase a big ticket item and I've been known to stand in a store aisle for two to three minutes trying to figure out which peanut butter is cheaper, the one on sale, the store brand or the full price brand if I use a coupon.
Although I am never a fan of pulling out my wallet I do find that some transactions are a little easier to bare than others. Here are just a few of my favorites:
A deep tissue massage – I found an incredible massage therapist that works less than a mile from my home. She provides an 80 minute massage for $80. I used to feel quite guilty about spending money on my appointments, but have learned over time that my body is just not as functional without them.
Organic, delicious, in-season fruit – I'll choose a juicy peach plucked at peak season over a cookie or brownie any day. I hate the winter months when my fresh fruit pile dwindles down to apples and pears.
Date nights out with my husband – These occur so infrequently that I think we've only had four in the last two years. It is nice to spend a little time together without the little man beside us. In fact, I need to do a better job of scheduling this on our calendar.
Activities that involve both my husband and son – Free activities are great, but I didn't mind shelling out money this winter so the three of us could tour the zoo or paying twenty-five bucks to see the lighted displays at a botanical garden.
Mommy-and-Me classes – Before I had a kid these sounded so lame, but now that my son is here I love spending time painting, dancing and singing with him in group settings. (Of course, I love just enjoying time with him at home too.) I won't pay $250 for the experience, but I really do enjoy spending time with my son and getting a little adult conversation from other mothers.
Gifts for other people – Nothing makes me happier than giving someone else a gift from the heart. A good friend stopped by yesterday to pick up a bundle of gifts for a baby due in May. I'm also sending a bunch to a former coworker whose wife just happens to be expecting on the very same day.
How about you? Do you have specific activities or objects that you enjoy spending money on?