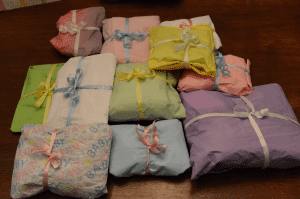 When I was pregnant with my son I received a giant box in the mail filled with wrapped gifts. My husband's aunt passed on the tradition of providing me with one gift for each prenatal appointment. I loved that I idea so much that I bought presents for my husband's friend who was expecting their first bundle of joy last year. As fate would have it their child was born much earlier than expected and our goody bag of gifts turned into an impromptu baby shower of sorts.
When a friend of mine from college announced her pregnancy last year I knew that I wanted to continue the tradition once more. This is not the most practical way to provide for a new baby. It doesn't involve buying items off their registry or buying one big ticket item they might really need. Instead it revolves around buying lots of tiny gifts that the parents-to-be can open each time they visit the doctor. The practical side of me says, "just wait and pick from their registry." The part that loves this tradition says, "go find fifteen or twenty cute gifts the mother-t0-be will love."
And so with that philosophy in my mind I went to the store in search of gifts for my friend. I took pictures of all the treasures I found, but unfortunately I cannot seem to locate most of them. It's unfortunate because some of the most adorable items aren't included in the photos below. Here are a couple of things I bought:
All told I purchased seventeen items. I actually can't believe I bought that many and didn't notice how long the list had become until I wrote them all down! The practical side of me one out after all. In addition to all of these items I gave my friend an old stroller that was a bit too short for my liking. It was in perfectly good shape and I told her honestly that I was giving it away because I hated bending over to use it. For those who might be wondering… she is much shorter so the height shouldn't be a problem.