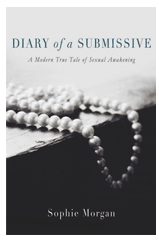 I've participated in quite a few BlogHer book reviews over the past year, but I wasn't quite sure what to expect when I signed up to review Diary of a Submissive. Penguin Press, the publisher of the novel, calls it The "real" Fifty Shades of Grey…A true life erotic story of female submission to rival The Story of O.
I haven't read Fifty Shades of Grey, but I know a lot of my friends have swooned over that novel. When I took a walk down the beach one summer morning I found two separate women lounging on chairs reading it.
Diary of a Submissive is told from the perspective of Sophie Morgan. Sophie is an independent woman who consciously gives up her power in order to coexist in a submissive relationship with a dominant man. She believes her submissive role maximizes her sexual pleasure with him.
The story steps you through her erotic experiences as her sexual desires awaken and deepen. This story is not for the faint of heart. It is classified as Erotica and Sophie provides detailed descriptions of sexual fetishes and explorations that would make a 'good girl' blush. I found it difficult to read a few scenes in the novel that were graphically depicted. Sophie is a self-described masochist who is aroused by physical pain and humiliation.
As the story progresses Sophie's experiments are pushed to the limits. Her partner James takes her to deeper and darker places.
If you enjoyed reading Fifty Shades of Grey or want an introduction to the erotica genre this might be the book for you. As for me, I think I'll stick with other novels. I have to admit that this one made me a little squeamish.
This is a compensated review commissioned by the BlogHer Book Club. All opinions expressed are my own.