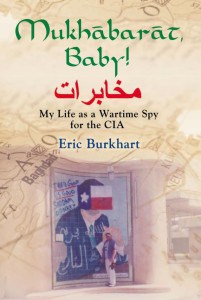 Book Description:
This is the story of a young American who would eventually fulfill his dream of becoming a CIA Case Officer, only to have a promising career cut short after having been purposely poisoned by a contact.
Eric Burkhart was raised in Europe in a bilingual household, and accepted a job in Africa right out of college. Upon his return to the United States, he was hired as an Immigration Agent in Laredo, Texas, working Inspections on one of the busiest port-of-entries connecting the United States and Mexico. This experience is detailed in this humorous, occasionally heartbreaking memoir about choosing to be a survivor.
In 2000, Burkhart accepted a position as a Case Officer with the Central Intelligence Agency. The book includes details of both the notoriously arduous hiring process and the rigorous training program, including Burkhart's eventual successful completion of the Espionage Course taught at the famous "Farm". Burkhart's first overseas working experience was in war-torn Kosovo, where he was unwittingly poisoned by an unstable intelligence contact. Burkhart would struggle with the repercussions of this episode for the remainder of his career, and eventually be obliged to accept full medical retirement from the CIA.
However, before retiring, Burkhart completed tours in Iraq and Africa. His time spent in the Green Zone almost immediately following the occupation of Baghdad, constitutes the majority of this enlightening book. Burkhart exposes the reader to the human element within the CIA, and we are introduced to a variety of characters, some who will seem familiar, and some who reveal the eccentricities we expect with this kind of occupation.
Follow Burkhart through the battlefields of Iraq, past the Iraqi Insurgency, and to his next assignment in Africa. Burkhart leaves no emotion unexpressed as he details his medical struggles with the horrific damage caused to his body from Toxic Exposure. Wracked by pain, Burkhart reaches the point where he must consider quality of life issues, and has to accept retirement as a necessary decision. Burkhart has a story to tell, and leaves no stone unturned during this turbulent time both in his life, and in our history.
My Thoughts:
When I was in college I attend a career fair where representatives of the CIA came to speak with prospective graduates. I was intrigued by the idea of becoming a CIA agent. I mean who doesn't want to travel the globe tracking down bad guys?
Obviously I never followed through on this desire. Instead I eventually attained a job sitting in a cubicle writing software for a large financial institution. That's about as far from CIA as one can imagine. I forgot all about that career fair until I read this memoir.
Isn't it true that our vision of a job rarely matches reality? Reading Burkhart's story showed me just how unglamorous a job with the CIA might be.
In this very down-to-earth account Burkhart details his missions and the horrible aftermath of a career with the agency.
While the first part of the book details his trips abroad the later half talks about medical problems that arose from operative poisoning. The details of his missions aren't particularly disturbing, but the aftermath of his time with the organization is really quite awful. The toxic chemicals he incurred from poisoning wreak havoc on his body.
As someone who has endured pain from an unexpected medical problem I was saddened to read that the author was in so much pain that he was nearly housebound and considering suicide as a possible escape from the difficulties that plagued him.
As his medical bills rack up from unexpected complications, doctor visits and medical tests he is forced to ask the agency and government for money. Its a shame that Burkhart is put into this position. The physical pain is bad enough it seems rather unfair that he must also deal with emotional battles over pride and money.
This is an interesting personal account of life with the CIA. If you've ever wanted to know the truth of what its like to work for the agency this might be the book for you.
Meet the author:
Eric Burkhart was born in North Carolina in 1965, and raised in France by his mother while his father was serving in Vietnam. Eric's parents retired to San Antonio, Texas in 1978, and Eric has considered himself a Texan since that time.
​ After completing college, Burkhart relocated to South Africa for a job in community planning and design. After returning to the United States in 1994, Eric started a career in federal service by becoming a Federal Agent. In 1999 he moved over to the CIA, which became his passion and focus in life. After being poisoned by while working in Kosovo in 2001, Burkhart was eventually obliged to medically retire, but not before extending his career to include tours in Iraq and Africa. Mukhabarat, Baby! is Burkhart's first book.