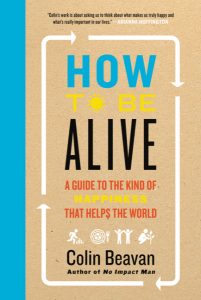 Book Description:
The author of No Impact Man and founder of the No Impact Project returns with this trailblazing guide to living a meaningful and fulfilling life while also contributing to the wellbeing of our communities and the planet.
When Colin Beavan embarked upon a yearlong experiment to lead a zero net-impact existence in the middle of New York City, he had no idea what a profound effect it would have upon himself and others around him. For Colin, the project—chronicled in a book, a documentary, and an ongoing lecture series—formed the basis of a radical "lifestyle redesign" that reached beyond just environmental activism. And, in the course of his travels and lectures, he encountered scores of people who were similarly breaking from traditional ideas about work, home, and even family in order to take their futures, and the planet's, in their own hands. In the process they made a startling discovery—a happier way of life that is also having a deeply positive impact on the world.
For most of us, though, even contemplating this kind of transformation is overwhelming and confusing. In How to Be Alive, Beavan shares his insights on finding the path that's right for you. Drawing on everything from classic literature and philosophy to current science, and combining that with his own experiences alongside those of the many people he has met along the way, Colin explores a broad array of transformational lifestyle adjustments—small and large—that offer security and meaning in a world confronted by ecological crises, economic upheaval, and ongoing war and social injustice. In the process, he helps readers embark on the quest for a "good life" of their own—lives both better for them and the planet.
My Thoughts:
It's the beginning of a new year, which seems like a fitting time to read a self-help book. Although I didn't write a single new year's resolution I still wanted to reflect on my life. What is working for me and what isn't? What should I change, if anything, and what should remain the same?
When I received an invitation to review this book I jumped at the chance. After all it's difficult to refuse a book promising to be "a guide to the kind of happiness that helps the world."
I don't know the author, but I bet Colin Beavan and I would be good friends in real life. I could picture us sitting across the living room on comfortable, but ordinary living room chairs discussing the "Own What Really Makes You Happy" chapter in great detail. Over the years I have pared down my belongings, minimized my wardrobe and curtailed my spending. As time goes on I am less and less attached to things. I find it easier and easier to rid my house of unwanted stuff and to ensure that unwanted stuff doesn't find its way back in. While I found myself nodding along in this chapter I think the advice is sound: understand your relationship with stuff and focusing on owning only what makes you happy.
As a personal finance blogger I felt most connected to that chapter, but I enjoyed Beavan's advice overall. This book guides you through the baby steps to a more enjoyable life. Many of us have big dreams and goals, but simply don't know how to make any progress on them.
Beavan's advice is to take baby steps and he sums it up in a wonderful example. Beavan meets a man who wants to play the guitar, but that man never buys a guitar or takes lessons or makes any attempt to learn how to play. The man says its a goal, but never takes a single action to meet that goal. Then one day he meets a woman playing the ukulele. In a few minutes he learns how to play a song on it and quickly realizes he doesn't need to buy a guitar that may involve spending a lot of time and money on equipment and lessons. Instead he feels quite fulfilled playing the ukulele.
It's an instrument that is inexpensive and easy to play. He can learn songs easily and gains immediate enjoyment. It's not a guitar, but it meets his goal of making music in a fun way. Will he ever meet the goal of playing guitar? Maybe, maybe not, but the point is we can take baby steps to find fulfillment.
Beavan writes of other examples of this. Rather than deciding you need to exercise, cut out all sugar, never eat a carb or whatever else your health goal might be, just take it easy one step at a time. One day drink a little less soda, the next go for a short walk, the next make dinner from scratch. Rather than changing everything at once, make a tiny change and let the momentum build.
If you are looking for inspiration to make changes in your life, think baby steps, then read this book.
About the author:
Colin Beavan is a writer and activist best known as the author of NO IMPACT MAN: The Adventures of a Guilty Liberal Who Attempts to Save the Planet and the Discoveries He Makes About Himself and Our Way of Life in the Process and founder of THE NO IMPACT PROJECT. He is the author of two previous books that have absolutely nothing to do with the environment: Fingerprints: The Murder Case That Launched Forensic Science and Operation Jedburgh: D-Day and America's First Shadow War. His writing has appeared in Esquire, The Atlantic, and The New York Times. He lives in New York City.