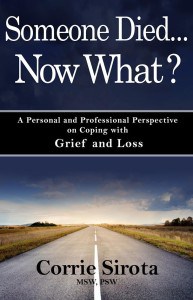 Book Description:
Someone Died… Now What? is a GPS for grieving. Corrie Sirota provides Guidance, Perspective and Support to help navigate through the grief process. Whether someone you love has died or someone you know is struggling with a loss, this book addresses many of the issues and questions that surface, providing concrete assistance on what to do immediately following a death, how to deal with feelings of sadness, anger and guilt, non-death losses and how to support grieving children. You will learn that grief is an ongoing process, and is as unique and individual as you are.
My Thoughts:
Our fifteen year old cat died earlier this year. I mourned for his loss, as any pet owner would do. My husband and I knew what needed to be done, but it didn't make it any easier to take him to the veterinarian in the morning. While I struggled with my own feelings I struggled even more over the discussion that would take place with my three year old son.
How do you talk to a child about death? I wanted to be honest with my son but I wasn't sure what to say. I told him the truth. That his dad took the cat to the vet, but that he was very sick and couldn't be cured. As a result the cat died. I made certain not to tell him that our cat went to live on a farm or that the cat went to sleep, but of course, a three year old doesn't exactly understand death. As I cried telling him what happened he said "It's okay if you're sad mommy. If you're really sad just bring the kitty back home."
So we talked about what it means to die. We talked about the flowers we bring home from the store. How they stand tall and vibrant in the vase and then slowly wither and die. He brought up death in little bits and pieces after that. He pointed out plants that died or flowers that were wilting. He asked questions about the cat. When he struggled with the idea he asked again why the kitty couldn't come home.
I am grateful that our first conversations about death involved our pet. My grandmother is ninety-two years old and it is quite possible that our next conversation about death will be about her.
Among the chapters in Someone Died… Now What? is a chapter specifically focused on speaking to children about death. There are many practical suggestions including talking to your children about life and death as a part of your everyday routine. That you are honest and speak with love. That you explain that death is irreversible, that you do so at eye level and that you ensure the child is surrounded by loved ones.
This book is extremely helpful in guiding the reader through the grieving process or helping others grieve. The author dispels the myths around what is or is not expected when one suffers a loss. She lists ways of speaking to those who are grieving including what you should and shouldn't say and points out that everyone handles these situations in different ways.
I would highly recommend this book to anyone and everyone. You never know when you will suffer a death of a loved one. You also never know when you will need to support someone who is suffering a loss. This book is a great reference to assist the grieving process.
Meet the author:
Corrie Sirota holds a Masters degree in Social Work as well as a Graduate Certificate in Loss and Bereavement from McGill University (Montreal) where she has been teaching as a lecturer in the School of Social Work for over 20 years. Corrie is a licensed psychotherapist who currently maintains a private practice specializing in Loss and Bereavement, Parenting issues and Relationship issues. She is a well-known lecturer who regularly presents at conferences and workshops, both locally and abroad. Working in the Montreal Community for over 2 decades, Corrie has developed numerous prevention and intervention programs for families, children and professionals, students and various community agencies as well as Day and Residential Camps.
Corrie has also written numerous articles and blog posts and is regularly interviewed on local radio, news and TV programs to consult on issues relating to loss and bereavement, Child Development and Parenting.