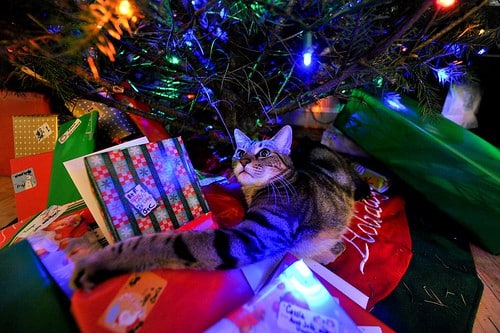 Before giving birth to an October baby I never factored in the number of gift list requests that would come between the time the first leaves fall and Christmas begins. I don't know what to include on zthese lists anymore. I feel quite inundated by the number of toys currently overflowing in our living room and that doesn't count the droves of items I've already moved to the basement.
I need help! No seriously. I really could use some advice on this topic. I know that everyone wants to see the little guy's eyes light up when he rips open the wrapping paper and reveals his gifts, but I don't want another mound of toys joining the piles we already have to contend with.
I've told everyone in my family that time is really the best gift of all, but with that suggestion they all seem to shrug their shoulders and say "uh-huh, but what can I buy the little guy?"
A few friends have suggested sticking to the good old rhyme:
something they WANT
something they NEED
something to WEAR
something to READ
I've also thought about asking them to wrap gifts of food and other consumable items. My kid loves fruit. Maybe they could just wrap up some oranges and apples. I know it sounds crazy, but at this age I think he'd love that more than any big box they'd give him. Perhaps they could buy a paint brush, paints and paper all wrapped separately. Maybe they could wrap a helium inflated balloon. Hmm, maybe these ideas do sound a bit crazy?
It's not that I'm trying to deny him toys. If he didn't have a room full of them I wouldn't think twice about adding a few to his wish list. And if his birthday didn't occur two months before Christmas he might be in need of some new ones.
I've written about this topic more times than I can count, but I can't seem to find a real resolution for the problem. I'm open to any and all suggestions! Feel free to leave a comment if you have any ideas!