I got married in 2004 and swore I would send out Christmas cards when December rolled around. Did I do it? No. Every year after we were married I planned to ship out cards, but somehow or another I failed to do so. Some years I got very close to sending out cards. I picked out my favorite pictures and even thought about what I wanted to write inside of them. One year I even bought cards, but when the time came I couldn't find the addresses I needed and never stamped or addressed them.
This all changed in 2011 when my son was born. I felt like I'd waited a lifetime for him to arrive. After a series of unfortunate medical problems my husband and I decided to wait to get pregnant. I always knew that I wanted children, but we both decided that it was best to let my body heal before attempting to carry a child. Of course, once I healed it took us another year of trying to conceive and nine months of pregnancy to make that wish come true.
As soon as he was born I decided to send out birth announcements. I was elated by his arrival and would have climbed to to the top of the tallest mountain if I could have. As soon as I selected a favorite picture I turned to the Internet in search of a website with baby related designs. I hate to admit this but I actually searched various sites for over two days. I wanted something simple and elegant, which can actually be quite difficult to find. A lot of baby designs are too cutesy for me.
When Christmas rolled around just two months after his birth I was bound and determined to send out Christmas cards. I vowed that this year would definitely be different and it was. After years of avoiding the camera I had taken more photos in two months of my son's life than I had taken in over ten years! Every day I was capturing new moments. Looking back I'm so glad I picked up that camera. So much has changed in my son's first two years of life and those photos instantly bring me back to the beginning.
In 2011 I actually had too many photographs to chose from. I settled on a Christmas card that let me include nine photos, because I simply couldn't narrow my options. For some reason 2012 was an easier year. I fell in love with one particular photo and printed a card with my son's beaming face on one side and a beautiful sentiment on the other.
This year I'm not sure what to select. My little guy is no longer a baby. His little face has started to thin out and he has lost that baby look almost entirely. As I look through the photos I cannot believe that another year has gone by. Looking at him makes me realize just how quickly time passes.
There are so many companies offering holiday photo cards that it's definitely difficult to choose one. After searching a number of sites I've chosen to use minted. I absolutely love how you can alter the shape of them. Look how pretty this scallop shape looks.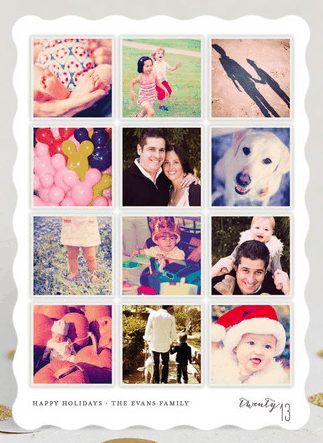 Now I just have to settle on a picture or pictures of the family.
How about you? Do you send out Christmas cards each year? Do you find it difficult to select the picture or pictures?
*The pictures are from the minted. site. They are not pictures of my family or son.