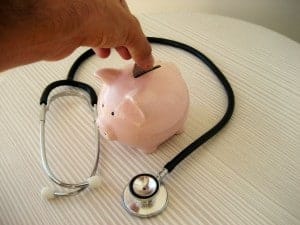 I sat down this weekend to review our insurance options for next year. As owners of a small company my husband and I spend a ridiculous amount of money on insurance premiums each month. I don't miss much about my working days, but I do miss the benefit of employer provided insurance. In 2011, (the last year I was gainfully employed), I paid less than $2000 in premiums for an entire year's worth of insurance! My employer paid $8,725. These days we are on the hook for the entire $10,000 to $18,000 bill!
Our options for next year include three different plans; a PPO, an HMO and a high deductible HSA plan. The breakdown is as follows:
| | |
| --- | --- |
| Type of Plan | Monthly Premium |
| PPO | $1,541.71 |
| HMO | $1,082.90 |
| HSA | $843.07 |
These numbers are quite specific to our little family of three. The premium is based on each of our ages, so I know that the PPO plan costs $611.94 for me, $615.89 for my husband and $313.88 for my son.
The difference in premiums is quite substantial. The PPO plan costs $698.64 more than the HSA plan per month and $8,383.68 per year.
| | |
| --- | --- |
| Type of Plan | Yearly Premium |
| PPO | $18,500.52 |
| HMO | $12,994.80 |
| HSA | $10,116.84 |
Of course the premium calculation is not the only factor to consider. The breakdown of deductible costs are as follows:
| | |
| --- | --- |
| Type of Plan | Deductible |
| PPO | $500 |
| HMO | $0 |
| HSA | $3000 |
Comparing medical plans is like comparing apples to oranges. To better even the score I added deductibles to the yearly premium totals. In the worst case scenario, (like this year), we will pay the entire deductible before our insurance kicks in.
| | |
| --- | --- |
| Type of Plan | Yearly Premium + Deductible |
| PPO | $19,000.52 |
| HMO | $12,994.80 |
| HSA | $13,116.84 |
As you can see the HMO plan is the cheapest overall option, but I am not a fan of HMO plans. I've experienced my fair share of medical issues and I know how difficult it can be to navigate the health care system when troubles abound. I have no desire to wait around for doctor referrals when I am in pain or in need of care. Especially not to save $122.04 a year.
After ruling out the HMO I tried to break down the costs of the PPO and High Deductible plan even further. There are definitely more upfront costs with the high deductible plan. For example, I would owe a $30 copay for medical treatments like allergy shots, physical therapy, and acupuncture. The same goes for x-rays, lab work and other diagnostic procedures. If we experienced a truly horrible year we could easily pay hundreds to thousands of dollars for these services. The maximum out of pocket costs for the HSA plan are $8,000, which means I could pay a total of $5,000 more after meeting the yearly $3,000 deductible.
It seems even in the very worst case scenario the HSA plan is a better deal. After accounting for deductibles the difference between the HSA and PPO plan is $5,883.68, which means even in the very worst case scenario I will save $883.68 by choosing the HSA plan.
The high deductible plan also allows me to save $6,650 per year in a tax advantaged account, which means some of my dollars will be spent before tax further boosting my overall savings.
What do you think? Am I missing something important? Is there something else I should consider when choosing between these plans?