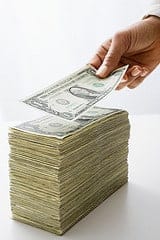 Way back in March of 2006 I read The Family CFO and subsequently asked my husband if he'd like to sit down for an in-depth meeting to discuss our current finances as well as our short and long term goals.
At the time I took this task very seriously. I created an agenda and followed the step-by-step process outlined in the book.
Here is the agenda from our first meeting:
Review Net Worth Report
Review Cash Flow Report
Discuss Major Expenditures
Discuss Insurance
Discuss Expected Tax Bill/Rebate
Discuss Plan for Excess Cash (ex. CD – 1 year, 6 month, etc)
Discuss Goals/Accomplishments from the previous year
Exercise

Write & Share Goals
Assign a Time Frame to Each Goal

1 – 5 years
10+ years
30 years

Rank Goals

Discuss Options to Achieve Goals
While we consistently held these annual meetings for years, and updated our goals and progress, we dropped the ball starting shortly after my son was born. With the addition of baby #2 later this month my husband thought we should schedule another meeting. It's time to look at the calendar and set a date.
I plan to gather all of our paperwork and hopefully use a prepaid restaurant gift certificate to eat dinner while discussing our finances. It will be good to get on the same page before the newborn chaos begins!