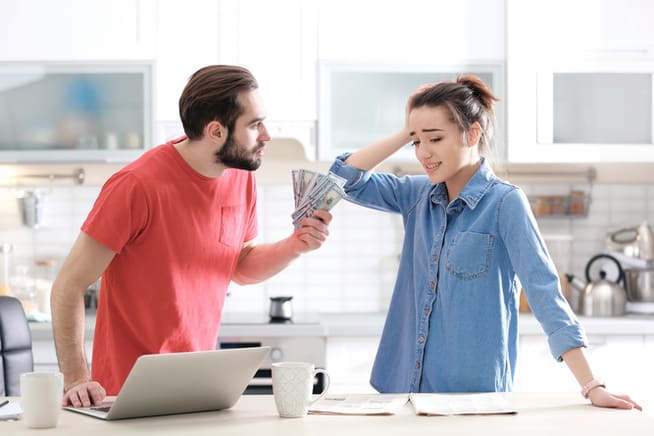 Yesterday I opened my inbox and found an email with the subject line "Selfish Husband" waiting for me. "My husband is selfish, selfish, selfish," the email began.
Selfish Husband
"I just read your post about family financial meetings," it continued. "Your family meeting sounds like a great solution for considerate couples, but it won't work for me. My husband is selfish with his money! All my husband cares about is money! He only cares about himself and his own financial needs. My husband spends money on himself, but not on me."
This woman's husband bought whatever he wanted whenever he wanted it. He was constantly putting his wants above the rest of the family. After ten years of fighting about money, she was at her wit's end. She was mad, agitated, and downright pissed off at her selfish husband.
Why Would a Husband Act Selfishly?
In full disclosure, I've never felt this way towards my husband. We began hosting family financial meetings in 2006, and I've never felt enraged by his financial choices or purchases. As far as I know, he's never felt ill will towards my financial decisions either.
For a moment or two, I wasn't sure how to respond. Did I have any advice to share? I wasn't too sure. Then I remembered a similar conversation I once had with a former male coworker of mine. I'll call him D.
D loved to spend money on new technology. He happily plunked down money for video games, new iPhones, and upgrades to old equipment.
"My wife tells me I'm selfish," he once told me, "but I don't think I'm selfish at all. I wouldn't mind if she upgraded her gadgets."
"These things don't break our budget, but she says I'm a selfish husband for buying them. It causes a fight every time it comes up. I'm tired of her nagging me to stop buying things I enjoy."
After a while, my coworker and his wife became locked in a repeated cycle of arguments. D wanted to spend money on techie stuff. His wife said he was selfish for buying it. They got into arguments whenever he brought a new device home.
Selfish Purchases
One day I asked D if his partner ever got upset about any of his other purchases. "No," he told me. "She only gets mad when I buy phones, computers, and other gadgets."
"Are you sure?" I asked. "What if you bought something else?"
"Like what," he asked.
Honestly, I wasn't sure. I just noticed that he only seemed to fight with his wife about technology. Would she be angry if he paid for an expensive trip or spent money on pricey home renovations?
He wasn't sure, so he went home and asked her.
My Husband Says His Money Is His
"Your gadgets are selfish because you are the only one who uses them," D's wife told him. "If you spent money on vacations and home renovations, it would benefit the whole family. "
D's wife paid the bills. She wrote checks and swiped her credit card for the children's clothing, sports activities, and utilities. Month after month, she watched the money leak from their checking account.
After paying the bills, D's wife couldn't bear to spend any remaining money on herself. She was angry that D didn't feel guilty about spending money like she did.
She condemned D's selfish behaviors and begged him to spend money on the "whole" family. D's wife made her needs secondary, and she wanted D to do the same.
D argued that they had plenty of money for both of them to spend the way they saw fit. D urged his wife to spend money without feeling guilty about it. "You don't need to feel guilty either," he told her, but she wasn't convinced.
"I'm not like her friend's husband," D said after they talked. "Her husband says, 'his money is his'. He tells his wife, 'it's his money, and she can't dictate how he spends it.' Her husband doesn't share his money. He makes her ask for it. Beg for it, really."
"I know she thinks I'm like him. She sees me as a husband who makes all the money and is unwilling to share it, but I'm not. I'm willing to let her spend it too," D said with a sigh.
Money and Emotions
Why were my coworker and his wife fighting? Was it really about the gadgets he was purchasing, or was there a deeper issue going on?
As a long time coworker and quasi money mentor, I pushed D to dig deeper into his financial fights. Why did he keep arguing about money with his wife?
One day I asked D to describe his relationship with money. He told me he came from an affluent family where money was never an issue or a concern. His wife grew up in a family that constantly struggled to pay the bills.
Could this be part of the problem? D and his wife approached money from two different sides of the same coin. She wanted to save their money while D wanted to splurge from time to time.
"My gadgets aren't breaking the family budget," D told me. His wife disagreed. She called him a selfish husband every time the topic came up. Was he an inconsiderate husband?
Saver or Spender?
This situation was so familiar to me. My husband also comes from an affluent family, but I do not. I need a lot of money to feel safe and secure. I suffer from a scarcity mindset.
D's partner was afraid they would run out of money. I recognize that fear. I can spend money on my children, my husband, and my house, but I rarely spend money on myself. It's a problem that has plagued me for most of my life.
What happens when one partner wants to spend money, and the other wants to tuck it away for safekeeping? The saver feels troubled watching money walk out the window. The spender feels frustrated and trapped.
Talking Openly and Honestly and Money
I talked to D in-depth about my financial frustrations. I told him how hard it was to watch my husband spend money without fear or stress, and how much I worried he would spend money without telling me.
D wanted to talk openly and honestly to his wife. He gathered their financial information and hosted a family financial meeting of his own. He documented the family's net worth, bank account balances, and monthly bills.
Then he created a spreadsheet listing his technical gear and expenses. He wanted to prove that his purchases didn't impact their budget.
But an interesting thing happened along the way. D's expenses turned out to be more than he imagined. Suddenly D understood why his wife was calling him a selfish husband.
D's spending was impacting the family budget. It wasn't a major impact, but it was larger than he imagined.
Setting a Budget for Individual Expenses
D and his wife sat down to discuss his findings and come up with a way to move forward.
He talked to his wife about the emotional impacts of spending and saving. While he understood his wife's fear of spending, he did not feel the same. In his opinion, this didn't make him a selfish husband. He simply wanted to enjoy the money he earned.
As a reasonable man, D realized that he could spend money with a plan. So he approached his wife and explained that he needed more fun in his life.
My husband has often said the same thing to me. As parents, we don't need to give everything to our children. As spouses, we don't need to agree on every expense. Partners are also individuals.
D didn't want to give up the things he loved just because he was a married father. He created line items in the budget for fun money—a budget for himself, his wife, and one for items they would both enjoy.
How to Stop Selfish Behavior
I don't know if this information would help the reader who emailed me. Without a whole lot of details, it's difficult to figure out if her husband is truly selfish or if he simply views money differently. Maybe he is a jerk. As an outsider, it's tough to know. After all, what can I tell from one angry email?
I replied to that email with a ton of questions, but I haven't received an answer yet. I hope that the reader's husband is a reasonable man like my friend D.
The best way to start a conversation about money is to gather the facts. Look at your income and expenses and determine how much money your spouse is spending on items that don't benefit the two of you.
Search through the credit card expenses and ATM withdrawals to figure out where your money is going. Is your husband selfish? Is he greedy with money? Does he spend all of your money on himself? Will your husband share his money with you?
Does your husband keep spending money? Is he purposefully spending a lot of money, or does he not realize how each small transaction adds up?
Then ask yourself how you feel about money. How do you feel about spending and saving, and how does that compare to your partner's views? Do you need a lot of money to feel safe and secure? Do you suffer from a scarcity mindset? How does your partner feel, and how does that differ from you?
How can you talk about those emotions without calling your partner names? Calling your partner a selfish husband isn't going to help. He will immediately become defensive.
I know the fights have continued for ten years, but I do hope this reader and her husband can resolve their money issues. Math is such a small piece of financial arguments. Emotions play a much larger role.
Related articles: