A new year just started, which means it's time to set big goals. Most of us focus on aspirations like losing weight, getting in shape or exploring new careers, but have you thought about your financial plans yet? If not, what are you waiting for?
There is no time like the present to review your finances and get on the same financial page with your partner. Let's start the new year with a plan to successfully chat about money. We can begin with an open conversation, (a family financial meeting), where we talk about our monetary hopes, dreams and fears.
Consider this post your family financial guide. It will guide you through the necessary steps to engage in a meaningful monetary dialogue with your partner.
Host a Family Financial Meeting
My husband and I hosted our first family financial meeting in 2006 and we've continued the tradition almost every year since.
We set a date every Valentine's Day for our big talk. It might not sound very sexy, but twenty-two percent of couples divorce over money issues, so I suppose it's a good way to ensure we don't split up over financial concerns.
In our day-to-day lives it's tough to talk about money without becoming overly emotional. Many of us bring up financial topics when we are feeling anxious, agitated or excited, but talking about money in a heightened emotional state can quickly lead to arguments.
Starting a conversation when you can't pay your bills or feel annoyed by your partner's spending is not the best time to start discussing your finances.
That's where the annual family financial meeting comes into play.
Plan For Your Family Financial Meeting
Your first step is to set up a meeting at a time when you and your partner are feeling calm and relaxed.
The purpose is not to point the finger at your partner or blame him or her for your current financial situation or debt. The goal is simply to talk about the numbers and get on the same page about them.
Here are the proven step-by-step activities we take each year to prepare for our meeting. I hope they will serve as a guide for meaningful, productive conversations with your partner.
Document Your Net Worth
I'm sure you are super excited to meet with your partner, but before you sit down you'll need to pull together a little documentation. Don't let this prep work put a damper on your enthusiasm or discourage you from hosting a meeting.
Before you can talk about money you need to uncover your financial facts. Unfortunately, many of us don't know where our money goes each month. Worse yet our perceptions of income and expenses are often very different from reality.
To begin you'll need to create a net worth statement. If you use Personal Capital or Mint gathering your net worth is easy. If you don't you'll need to login to all of your accounts and write down how much money you have in each of them. Make sure to document all of your debts too.
As you complete this exercise take the time to classify your accounts. Separate your retirement accounts from savings and checking. Write down which assets are liquid, (cash and investments), and which aren't, like your house, car and other valuables.
Why should you document your net worth? It's the best place to begin talking about your finances. Net worth statements provide an overall picture of how much you owe and how much you own.
They provide a clear snapshot of your current financial health.
Document Your Income
After you complete your net worth statement you'll want to create a cash flow report. Document how much money you earned this year and how much you've spent. If you keep detailed ledgers of your expenses you can finish this task in a matter of minutes.
If you don't you'll need to gather it now. Search for your W2s or most recent paychecks so you can document your income. Don't forget to document non-traditional sources of income like side hustles, eBay sales, baby sitting money, etc.
Document Your Expenses
Then take a stab at the flip side of your financial picture by gathering data about your expenses. To figure out your yearly expenses see if your credit card company offers a snapshot.
Some companies, like Chase, provide an annual spending report that breaks down your expenses by category. If you don't have access to something like this, you'll need to look through your credit card statements to gather the facts.
This step may take awhile to complete, but I promise it will be worth your time. It's extremely important to see where your money goes each month. As you review your statements you will begin to see patterns and trends.
This exercise forces you to see the truth about your spending. How much do your daily habits cost you? Do you eat out more than you expected or spend a lot of money on clothes?
It's important to see just where your money goes so you can objectively discuss the options for trimming expenses to meet your goals.
Try your best to refrain from judging the expenses you see. You may notice that your partner spends a lot more money than you do or that your daily habits are costing you a whole lot more than you thought they would.
That's okay. At this point you simply need to document the numbers. You don't need to trim anything from your budget or pass judgement on the numbers you see.
Review Your Insurance Policies & Verify Beneficiaries
Spend a little time reviewing all of your insurance policies. This should include auto, home, disability and life insurance. Review how much you are spending on these and what they actually cover.
Having solid insurance will help ease some of your financial worries. It's important to know that coverage exists in case the need arises.
Now is also a great time to review the beneficiaries on your insurance policies. Do the same for your bank accounts. Have you recently switched jobs and opened a new 401(k) account? Did you start saving in an IRA or other retirement account?
Verify the beneficiaries on each and every one of your accounts. Most banks let you check online. You can also call your bank for assistance.
Write Down Your Financial Goals
Now comes the fun part. How do you want to handle your money from this point forward. What do you want to accomplish in the future? How much money do you need to accomplish those goals?
Pull out a set of 3×5 cards or divide a piece of paper into four columns. At the top of each area write: one year, five years, ten years and twenty years.
Write down your desires in each time frame. What do you want to accomplish one, five, ten and thirty years from now? Ask your partner to do the same.
Don't share your goals or discuss them yet. You will share them together at your annual family financial meeting.
Sample Goals
You can write anything your heart desires in this space. Here are some sample goals my husband and I have shared over the years. Hopefully these will help you get you started:
Short Term Goals
Take the family on small adventures close to home (zoo, park, etc.)
Refinish kitchen floor
Spend time talking after the kids go to bed at least 3x a week
Exercise 3x per week
Replace the front door
Try a new recipe each week
Clean out the garage. Remove bench. Add pegboard.
Create and maintain a 6 month emergency fund
Volunteer at the boy's schools
Coach soccer or basketball (maybe both)
Love the work you perform during the day
Host bonfires in the backyard
Spend more time with the kids outdoors
Volunteer to cook for the homeless
Pay off the mortgage
Save money in retirement accounts
Mid Term Goals
Replace the windows in our house
Hire a babysitter and spend quality time together
Start a new job
Celebrate mortgage payoff
Create larger master bathroom
Refinish the kitchen counter
Prepare our oldest for middle school
Long Term Goals
Retire by age 50 (at the latest)
Pay off both homes as soon as possible (free up $5400 a mo. in payments)
Replace my car
Replace living room furniture at primary home
Have a kid/ Buy a 4 door car for my husband
Work part time after having a kid for 1 – 2 years
Your lists may change over time. In the first year ours focused on home repairs. Now they focus more on spending time with our children, traveling and enjoying our lives.
Notice that this sample list includes financial goals alongside goals that don't cost any money to complete. It's important to create a grand plan and to recognize that some of the simplest pleasures in life don't cost anything at all.
Create a Family Financial Meeting Agenda
Take this family meeting seriously. Treat it the same way you would treat a business meeting with the CFO of your company. Create a family financial meeting agenda that addresses all of your financial concerns. Here is a snapshot from the first annual family financial meeting we held in 2006:
Review Net Worth Report
Review Cash Flow Report
Discuss Major Expenditures
Review Insurance Policies
Discuss Expected Tax Bill/Rebate
Share Progress/Accomplishments from the previous year
Exercise

Share Goals

Ex. Retire @ 50
Return to College
Replace Furniture

Review Time Frame to Each Goal

1 – 5 years
10+ years
30 years

Rank Goals

Discuss Plans for Excess Cash (ex. CD – 1 year, 6 month, etc)
Discuss Options to Achieve Goals
Follow this example or create an agenda that works more specifically for you and your partner.
Host a Family Financial Meeting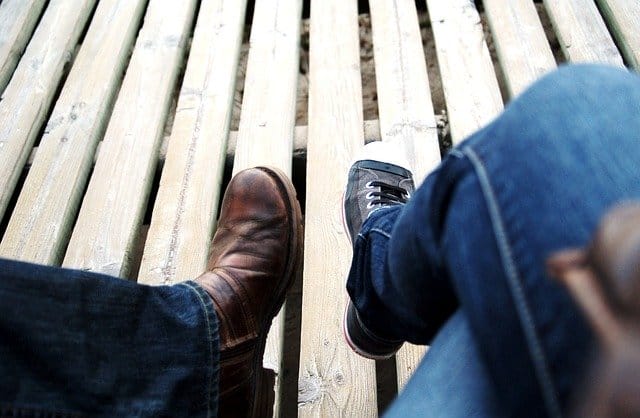 Choose a date for your financial family meeting. Try to pick a time when you will feel calm and relaxed. Hire a baby sitter to watch your children or wait until late at night when the kids are in bed.
Grab a cold beverage, your financial documents, and your partner, and sit down in a quiet place where you can easily share your thoughts.
Begin by stepping through the documents you gathered. Talk about your net worth, income, and expenses. Discuss your feelings about those numbers and how you want to see them shrink or grow.
Remember to keep an open heart and mind. Try to discuss your figures without passing judgment on yourself or your partner.
Share Your Goals
At some point during the meeting you'll need to set aside time to discuss your goals. Hand over your 3×5 cards and ask your partner to read your words out loud.
Your partner's goals may be similar to your own or wildly different. Again refrain from judging your spouses desires. Let him or her explain what the goal means if it requires additional details.
Next rank your goals; first as individuals and then as a team. You will need to talk and compromise to figure out which goals can be met this year and which need to wait until later.
For example, you may want to buy a motorcycle while your partner wants to remodel your home.
Discuss the pros and cons of each goal and how it impacts your lives together. Keep in mind that individual goals are just as valid as joint aspirations. Do your best to figure out which goals take precedence.
If you can't agree on how to rank the goals or you think both goals rank as #1 then you'll need to step back for a moment to discuss your funding options. Do you have enough money to complete both goals simultaneously?
If not it's time for a little give and take. Recognize each other's wishes and find ways to make each other happy. Make certain that one partner is not perpetually compromising.
Support Your Partner
Try your best to support your partner. Create a space where you can both speak honestly and openly. The point of this exercise is to set aside money for the things that matter while simultaneously getting on the same financial page.
For example, one year my husband and I decided to cut back on our food budget. We set a goal to eat at home more often. To meet this goal we attended cooking classes, grocery shopped together and began planning our meals. Low and behold we decreased our dining expenses and learned to love our time in the kitchen together.
When this exercise is over you should find ways to support your partner to the best of your abilities and for your partner to do the same for you.
If you do get upset while discussing your goals make sure to stop the meeting and postpone it's conclusion for a later point in time. Allow both partners to clear their heads. Then meet up later that night or chose a completely different day.
By the end of your meeting, or multiple sessions if the need arises, you should have a ranked list of goals.
Decide How to Fund Your Goals
After you settle on a list of goals you'll need to figure out how to fund them. Do you have a chunk of cash set aside or do you need to cut back on other expenses? Do you need to earn more or spend less to make that happen?
Step back and ask yourself how you can bring in more money or stop the trickle of expenses that prevent you from reaching your desired outcomes. Discuss all of the ways you can support one another.
Set a date on your calendar and review this information at least once a year. It will help you see what you are worth, what you wish to attain and how close you are to reaching your goals.
A Note on Emotions
The notion of money can elicit a whirlwind of emotions. The goal of this meeting is to find ways to talk honestly without getting upset with one another.
As I mentioned before the key is to begin by reviewing the facts. No one can argue with the cold hard numbers.
When you look at the figures you may find discrepancies between your perception and reality. You may be shocked to discover just how much you spend or how little you earn after deductions and taxes.
Take the time to talk about your emotional state. Do the numbers make you feel anxious, excited or fearful? We all have our own money blueprint. Don't project your emotions onto your partner. Make sure to talk with your partner to see how they feel.
These conversations should become easier with time. Remember to talk about your household finances like a business. What can you do to help your business stay afloat or excel? How can you create a stronger marriage or partnership by working through the numbers?
As time progresses your goals will become more synchronized. You will plan for trips, early retirement or whatever else your hearts desire. Use your goals as a beacon to work together.
Outcome Of Your Family Financial Meeting
My husband and I host a financial family meeting every year and I feel deeply inspired and proud of our progress after each discussion.
Thanks to these honest conversations we achieved financial freedom in our early thirties. Without these talks we would have earned a lot of money, but I'm not sure that we would have remained focused on our goals.
Write Down Your Results
Take notes throughout your meeting and recap with a highlight list that you can discuss again next year. Here is an example from our first meeting in 2006:
Net Worth Review:

Mortgage principal on primary home reduced by $11,000
Non-retirement assets increased $30,000
Retirement assets increased $61,000

Mortgage:

Pay off date: 09-01-2018 (now 03/01/2020)

Retirement:
Other Decisions:

Current emergency fund is just right. We will not add to it or deduct from it.

Life Insurance

$500,000 for 30 years (approximately $450 per year) for hubby
Post Your Goals and Revisit Them Often
Post the goals to your refrigerator as soon as you finish discussing them. This helps them stay present in your mind. After all, the more you focus on your goals the more likely you are to achieve them. Ask your partner to help keep you accountable and promise to do the same.
When the meeting is over gather up your documents and store them digitally. Nothing feels better than checking items off the list and reviewing them next year!
Related Posts
——
A big thanks to Get Rich Slowly and Do You Even Blog for unintentionally inspiring this post.