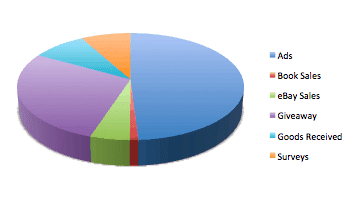 This year I used a spreadsheet to track the amount of money I earned from various online endeavors. In the past I never kept a valid account of this data. Now that I'm staying home with my son I am more interested in this tiny pocket of money that I earned all on my own. I realize that's rather silly, but it's true nonetheless.
Last year's total rang in at roughly $4,241.75. I wasn't as careful about tracking my figure last year though, so it's possible the total was slightly larger than what I calculated.
As I've mentioned before I don't write this blog for the money. In fact, lately I'm not exactly sure why I write in it at all. I've considered giving up on it a couple of times, yet here I am still typing this post.
This year's tally rings it at $4,735.44. Which means I'm already outpacing last year. Here's the current breakdown.
| | |
| --- | --- |
| Selling Used Books | $48.75 |
| eBay Sales | $252.69 |
| Goods Received | $408.69 |
| Surveys | $473.00 |
| Giveaways | $1,300.00 |
| Advertising | $2,252.31 |
| TOTAL: | $4,735.44 |
I also earned 4000 rapid reward points to Southwest Airlines. I'm not exactly sure what the dollar equivalent of that would be, so I'm leaving it out of the financial equation.
The majority of the money I earn is placed in my son's 529 account. A very small portion is used to purchase Christmas gifts.