"Is this the life you planned?" a friend recently asked.
"What do you mean," I responded.
"Did you think your life would turn out this way," she continued. "Does it look anything like the life you dreamed about when you were a kid?"
I opened my mouth to speak, but my friend didn't wait to hear my answer. Instead, she painfully listed out the disappointments in her own life: an unfulfilling career, debt, constant money struggles, and a string of bad relationships.
My friend was struggling to reconcile her childhood expectations against reality. She wasn't working in a dream job, married to a perfect partner, or sitting on a bank full of money, and without these things, she considered herself a failure. She felt like something went wrong, perhaps many things, and she could never get her best life back on track.
"Is this the life you planned?" my friend asked again.
"The life I planned," I said after a long pause, "not exactly."
Life Doesn't Always Go As Planned
The story of my life is not one I could have ever conjured up in my own mind. I didn't anticipate becoming a software engineer or quitting my job in my early thirties. I also didn't envision blood clots, neuropathy, chronic pain, years of infertility, a failed business, or marital struggles. Life doesn't always go as planned, at least mine sure didn't.
The truth is, most of us encounter hard times and bumps in the road, but few of us can predict them. Life (by its very nature) is quite unpredictable.
As a teenager, I pictured my ideal life without a single image of the journey ahead. I would start at one point, work hard, and successfully end at another.
Of course, that mindset is unrealistic. We cannot predict the ending of a book by reading the first page. The main character in every great novel is forever changed by the events that happen in the middle of the story. So why did I think my life would be any different?
Life Plan or Fairy Tale?
As an eighteen-year-old, I thought about finding the love of my life, but never envisioned the boy who would break my heart. I pictured the perfect job and never once thought about the monotony of going to work or the chance that I might get laid off one day.
From an early age, I thought about having a baby, but never imagined years of infertility or the week-by-week heartache that followed every failed pregnancy.
This still happens, even now, as a forty-year-old. When I picture my future, I rarely envision the negative events that might happen along my way. I don't typically spend time contemplating my parent's deaths or my eventual physical or mental decline.
Fast forward to a vision of your ninety-year-old self. What do you see? In my mind, I'm still fit, strong, and capable without an ounce of gray hair, which is funny because I already have plenty of them.
I still fill my future with the same fairy tales I envisioned as a child. It seems happily ever after never goes away.
When Life Doesn't Go Your Way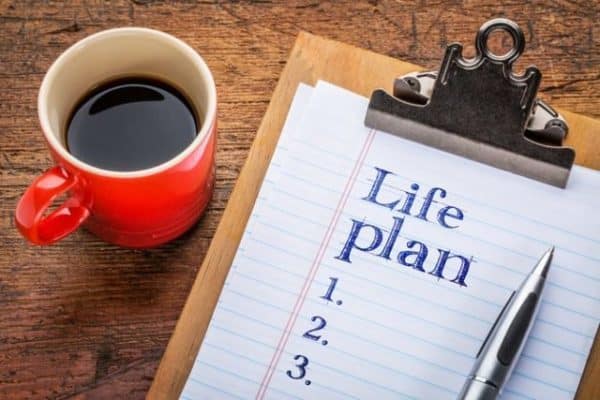 This positive thinking is necessary. It keeps us moving towards our goals, but what happens when our map of the future doesn't actually lead to the destination we planned? What happens when we put in hard work and still fail to live up to our life plan?
You may decide who you will marry, what you will do for a living, how many children you wish to have, and where you will raise them, but what happens when reality doesn't produce those results?
What if you don't find a loving partner, easily conceive, or find a job that you love for the next three to four decades?
Or worse yet, what if you complete your objectives and still feel unhappy? How many of us felt passionate about our field of study in college, but ended up hating our jobs after graduating?
How many doctors and lawyers wish to quit their practices, and how many happy couples eventually become disgruntled and disengaged?
Childhood Dreams: My Teenage Life Plan
As a child, I wanted to become a writer. I spent every spare minute of my time scribbling ideas on to random scraps of paper. In class, I jotted down outlines rather than concentrating on schoolwork and snuck under the covers each night to write poems and elaborate short stories.
My high school English teachers encouraged my passion for writing. One morning Mr. H, (the most inspiring teacher I ever had) handed me a copy of our local newspaper and asked me to turn to a particular page.
I remember balancing the large black and white paper on my tiny desk as Mr. H stood over my shoulder, looking down with a wide, excited grin. I turned a few pages, and then he pointed down to two small words right in front of me.
"Look right there," he said.
I squinted, shrieked, and jumped up so fast that the newspaper slid off my desk and spilled out onto the ground below me. I picked it up, sat back down, and stared at those two words. There it was in black ink, my name, printed just below a poem I'd written.
I clipped out that tiny little poem and placed it in the front pocket of my writing folder. I tucked it deep inside and carried it with me for the next two years.
When Life Doesn't Go As Planned
When I graduated from high school, my objectives were clear. I would become an English teacher by day and write award-winning novels at night.
I studied English literature as an undergrad, but I didn't become an English teacher or write the great American novel. In college, I fell in love with a computer science major who introduced me to the wonders of technology.
Three years later, I left the world of novels and poems behind. In place of writing, I pursued a newfound love: software engineering. As an eighteen year old, I couldn't have imagined writing code for a living, but four years later, that's exactly what I was doing.
When Your Plan Doesn't Go as Planned
Have you ever wondered what would happen if you encountered a younger version of yourself in your current life?
"What about the stories you yearned to write?" my younger self might ask. "What about the desire to see your name on the cover of a book?"
Would that younger version feel disappointed by the decisions I made? Would she wonder why I didn't pursue my love of writing?
Failing to Achieve Your Life Plan
We spend a good portion of our youth thinking about the future. What will life be like when we are older?
How does it feel when we don't write that great American novel, find a life-long partner, or choose a career that sends us racing out of bed every Monday? What happens if we don't become the person we imagined we would become?
Time Alters Our Plans for Life
When Mr. H handed me that newspaper back in high school, I stared at my name in print. "Surely, this would be the first of many literary masterpieces," I thought.
The yellow remnants of that old poem now sit in an old box in the attic under a slew of uncompleted ballads and short stories.
If I base my success on writing a book, then clearly, I am a failure.
Rethink My Life
I think our childhood expectations are skewed. At least mine were. I think my friends were too.
We step out into the world with a very specific image in our minds of how our lives will play out, and those assumptions all lead to the perfect results. We never consider a future in which things go wrong.
But the truth is, most of us will encounter twists and turns that alter our path. When life veers off course, we must learn to recover from our disappointments, dust ourselves off, and find new ways to move forward.
This is the time to reevaluate our end goals. Do we really want to continue on our current path, or is it time to forge a new one? Do we long for our childhood aspirations because we failed to create new ones, or do we still covet those same dreams?
When asking these questions, pay attention to your ideals and your mental health.
If we still desire the same goals, how can we realistically achieve them? Is it even possible? If not, how do we move on?
Advice to My Younger Self
If I could talk to my younger self, I would give her some advice, although I doubt she would listen.
I would tell her to set goals, but also to search for contentment in the here and now, because accomplishment doesn't guarantee happiness. If she has a checklist for life that feels contingent on finding joy, she should toss it right out the window.
Many people fail to achieve their dreams, but there are also plenty of people who may feel downright miserable after achieving them.
Think about doctors who hate practicing medicine or PhDs who are absolutely miserable in their chosen field of study. You can graduate with a slew of degrees or become the biggest big-wig in your organization and still dislike your profession.
If your path isn't making you happy, consider veering off course or finding new ways to make your current life better.
Do not feel guilty for changing your goals or allowing life to lead you in new directions. Don't be afraid to make new plans and paths. There isn't one right way to travel.
When you feel stuck, ask yourself what you would be willing to give up to achieve your goals. Reflect on the list of things you aren't willing to lose. Be grateful for everything on that list.
Don't stay stuck in a career you don't love, but don't just jump ship either. Look for ways to create a more enjoyable work experience, but also be willing to quit your job if it's making you miserable.
Reevaluate your need for expensive things and remember that you don't need a lot of money to live your best life. Keep in mind that dreams are easier to achieve when you learn to live simply.
Don't get overly wrapped up in failing to achieve your prior goals, instead focus on this current moment. What steps can you make to improve your life, and how can you absolve yourself of your previous failures?
Most of all, remember that your self worth should never be tied to your achievements and possessions. You are good enough without meeting society's definition of success.
To Achieve Your Goals, You Must Take Action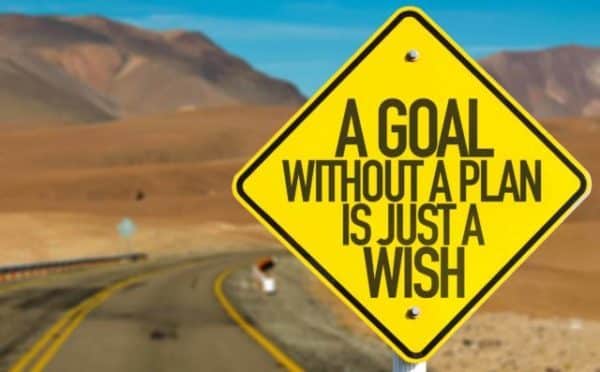 Remember that a plan for life isn't a plan unless you take action. If you want to reach a goal, you can't just dream about it. You must make it happen.
If I really want to see my name on the cover of a book, I need to start writing. Otherwise, it's time to admit that I no longer care about this goal and move on to a different objective. There is nothing wrong with admitting that the thing you once coveted is no longer important.
The Person You Are Destined to Become
Ralph Waldo Emerson once said, "The only person you are destined to become is the person you decide to be." While I appreciate the sentiment, I think it's oversimplified.
Unforeseen life circumstances may alter our paths and lead us to become someone other than the person we expected to be. Life goes whatever way it wants regardless of our plans for it.
Maybe you thought you wanted to climb the ladder of success, but quit your high paying job for a less intense career, or maybe you wanted to travel the world and gave that up for a stable job that can support your family. Perhaps you hoped to become a star athlete, but an unexpected injury or illness left you sidelined.
Events can greatly alter our paths, but time can create great ripples too. The eighteen-year-old version of myself had very different goals than the current one. The fifty, sixty, and seventy-year-old versions will all have different ideas of how life should be lived too.
We may ultimately become the person we decide to be, but that doesn't mean we will always be that person. Learn to appreciate the value of that fluidity and let go of the person you thought you should be.
Try to stop looking back and instead start looking forward. If your childhood dreams still speak to you, then take action to achieve them if you can. If they don't, or you can't, move on from them. It won't be easy, but it is necessary.
We Must Be Willing to Let Go of the Life we Planned
Joseph Campbell once said, "We must be willing to let go of the life we planned so as to have the life that is waiting for us." So, what can we do when life doesn't go as planned?
Take a moment to think about the things that have gone well in your life. Some of us will have to dig deep to think of the good stuff, but I guarantee that we all have some. Turn to your friends and family for help if you can't think of any.
Remember that we all fail in certain aspects of our lives. Some of this is within our control, and some is entirely beyond it.
Everyone else in the world is not more successful than you. What we portray to the world is but a shadow of our true selves, and for every victory, someone has achieved, there have been many failures. Most of us just aren't willing to share them openly.
Do not compare yourself to someone else. These comparisons are never fair or objective. You will always compare the worst aspects of yourself to the best qualities of others. Keep in mind that the most successful people are also unhappy.
Few of us are successful in all aspects of life. Maybe your job is amazing, but your love life sucks, or you suffer from chronic pain but have the solid support of your friends and family. When you reflect on your own disappointments, recognize that we are all struggling in different ways and for different reasons.
As you contemplate life, keep in mind that success isn't measured by money. We think our value is defined by our titles, but it's not a fair measurement. What if we base our true value on kindness, love, and compassion?
Rethink Your Life Plan
Instead of focusing on the unrealistic expectations you set for your life, try to reflect on who you are and how far you've come to get here. Remember: You are enough, just as you are, right at this very moment.
Heed my warning: Life is not a series of checkboxes. It's a journey full of unexpected experiences. Rather than fearing those twists in the road, try your best to embrace them. Those curves are already built into the path ahead, and no matter how hard you try, you cannot avoid them.
Try to keep an open heart and mind rather than sticking rigidly to the life plan you previously imagined. Letting go of our plans isn't easy, but sometimes releasing the wheel takes on a much better path.
Did your life go according to plan? If not, tell me in the comments below.